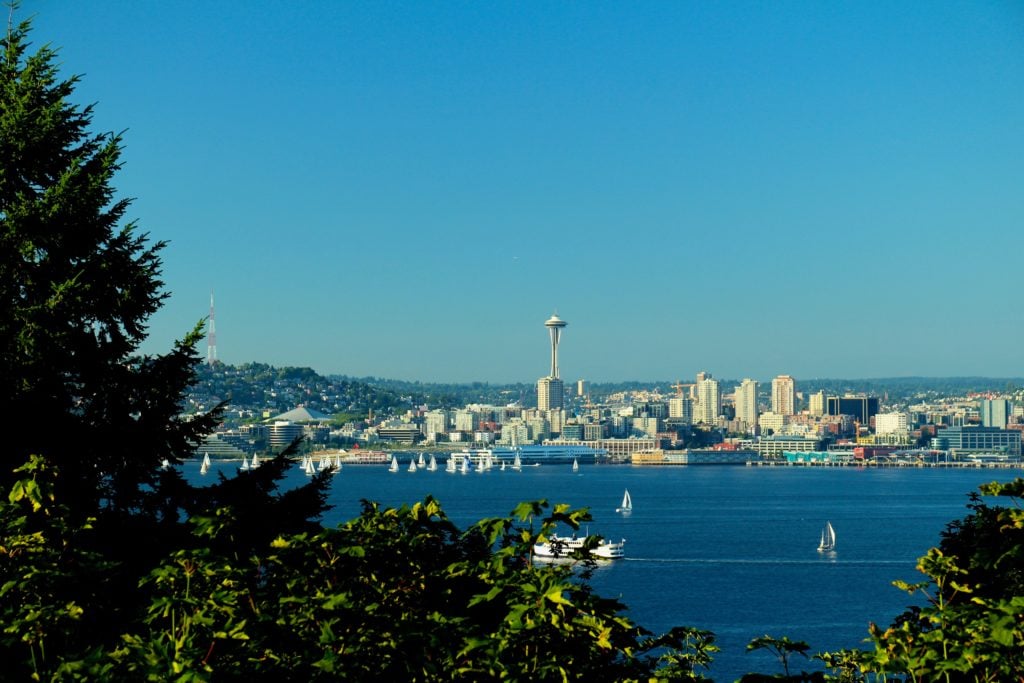 With the fluctuating dollar, many Canadians have been hesitant to cross the border. That's understandable, but there are so many great destinations, such as Seattle, that are more affordable than you may realize. It's driving distance from Vancouver and a major hub for flights, so you could easily plan to spend a few days there without having to break the bank.
One way to reduce your vacation spend is by using a credit card with no foreign transaction fees, since it'll save you 2.5% on all your purchases. You'll also want to pick up a Seattle CityPass, which gives you access to five of the city's top attractions (all featured below). It'll cost you $99 USD for adults or $79 USD for children, but that's a savings of 47%! Seattle is a very walkable city, but if you do need to take the bus, the adult fare is $2.75 USD while youths age six to 18 will pay just $1.50 per ride (kids five and under are free).
And now that you're set up with the basics, here's how to spend 48 fun and affordable hours in the Emerald City.
Day 1
Morning. Head straight to the Seattle City Center where you'll find many of the top attractions. The first stop has to be the iconic Space Needle, with its 360-degree unobstructed views of the city, along with the mountains and water that surround it, plus a rotating indoor glass floor that allows you to look 500 feet straight down. Once you're back on the ground, go next door to the Museum of Pop Culture (MoPOP) which was designed by Canadian starchitect Frank Gehry. The Nirvana: Taking Punk to the Masses exhibit will walk you through the journey of one of the most iconic bands, while the Indie Game Revolution Exhibition could keep your little ones entertained for hours
Lunch. Serving Lebanese street eats, Mamnoon Street shouldn't be missed. Your first instinct may be to go for the chicken shawarma, but trust me, the lamb with its turnips, arugula, mint and special sauce is what you should order. These shawarmas are massive but if you're not dining alone, order a side of harra frites (the Middle Eastern takes on fries), which comes seasoned with Aleppo spice and house-made za'atar mayo.
Afternoon.  Take your CityPass and choose between the Chihuly Garden and Glass, or Pacific Science Center. Both are fun but those traveling with children may prefer the latter. Once you're done, you'll still have time to do the Boeing factory tour, where you'll see 777 and 787 airplanes being built. The tour takes three hours and is located about an hour north of Seattle, but it's a must for aviation junkies ($98 USD for adults, $88 USD for children; transportation from downtown is included via Tours Northwest).
If you have limited time, there's also the Museum of Flight located at Boeing Field, which is just a 15-minute drive from downtown Seattle. They have more than 150 aircraft on display and if you visit before September 2, 2019, you can check out the Destination Moon exhibit celebrating the 50th anniversary of the Apollo 11 missions. Tickets are $25 USD for adults or $16 USD for youths aged 5 to 17, but you can also visit for free on the first Thursday of every month between 5-9pm.
Dinner. Local celebrity chef, Tom Douglas seems to have his hands in every type of cuisine and none of them disappoint. Try Yucatan inspired flavours at Cantina Lena, Greek home cooking at Lola or some of the best pizza the city has to offer at Serious Pie.
Where to stay. The Sound Hotel in Belltown recently opened and puts you within walking distance of Downtown, Pike Place Market and the Seattle City Center. The rooms are spacious so it's an ideal setting for both business and family travellers. Check out their offers page for ongoing promotions.
Day 2
Morning. Skip breakfast and join the Pike Place Market food tour by Savor Seattle ($43.99 USD +$3 USD Friday to Sunday). Indulge in 14 different bites and sips while learning about the history of the market. You'll want to walk off all that food, so head down to the waterfront where the Seattle Aquarium is located. As you can imagine, the aquarium features thousands of underwater species, but the star attraction is the giant octopus in the life of a drifter exhibit. What really makes a visit appealing is their focus on marine conversation and how the decisions we make impact marine life
Lunch. Head back up to Pike Place and sample some of the vendors that weren't on the food tour. You can't go wrong with fish and chips at Jack's Fish Spot or mac and cheese from Beecher's Handmade Cheese.
Afternoon. Make the most out of your CityPASS and join the Argosy Cruises Harbor Tour. This one-hour narrated journey will give you views from the water of some of Seattle's most popular landmarks. If you've still got the energy after the cruise, exploring some architectural gems such as the Central Library and the Amazon Spheres is a great way to see what else the city has to offer.
Dinner. You can't come to Seattle without having seafood. Treat yourself and book a seat on the outdoor deck at AQUA by El Gaucho. Prices here are on the high side, but the food and service are worth the splurge. The Dungeness crab croquettes are bursting with crab and full of flavour, while the miso-marinated black cod melts in your mouth like butter.
More ways to save. February is Seattle Museum Month, when visitors staying at participating downtown hotels will get 50% off admission to the region's top museums. The University of Washington offers free campus tours where you can learn about the architecture and history of the school. If you're a baseball fan, Safeco Field, home of the Seattle Mariners, has tours that will take you right onto the field and only set you back $10 USD for adults and $8 USD for children. While downtown, be on the lookout for free park and plaza performances, which take place between noon and 1:30 p.m.
Barry Choi is a personal finance and budget travel expert at Moneywehave.com. He makes regular media appearances where he talks about all things related to money and travel.