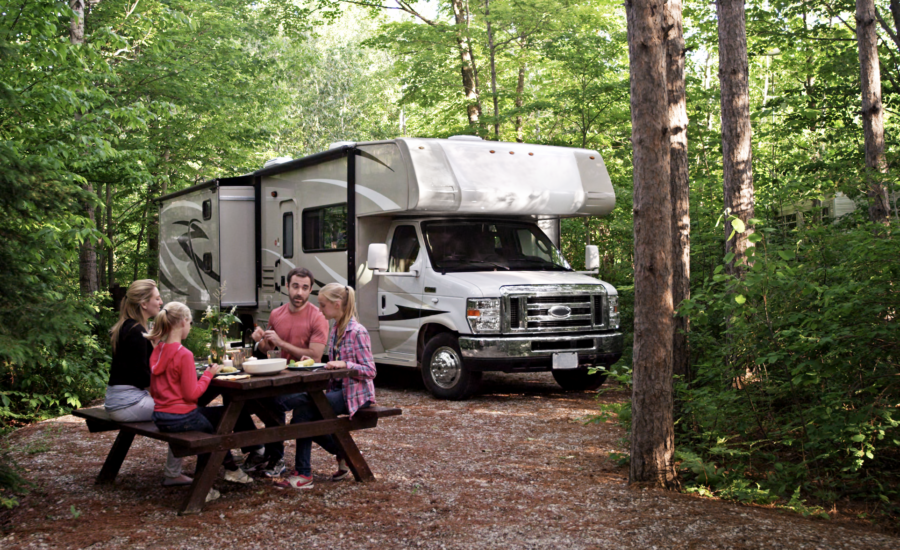 COVID-19 has me doing all kinds of things I'd never really done before the pandemic started (jigsaw puzzles, for one) and has forced our family to rethink our vacation plans. We've already brushed off our tent for a camping trip this summer, and now have booked an RV (recreational vehicle) to travel around Cape Breton the week before school (potentially) starts. I've never driven an RV before, and I'm excited to try vacationing with one. 
RVing has always been popular in Canada, says Christopher Mahony, president of GoRVing Canada, with 15% of Canadians owning a recreational vehicle. And now, with the pandemic wiping out much of our ability to travel, dealers across the country are seeing a sudden surge of interest from people looking to buy RVs. Klaus Gretzmacher, VP Tourism for the RV rental and sales company CanaDream, says they're seeing a huge increase in bookings from Canadian travellers. In the past, often their biggest market was foreign visitors. 
What's the appeal? Here's the lowdown on RVs, what they cost to rent or buy, what other costs are associated with them, and the types of vacations you can plan with one. 
What types of RVs are available?
There are many different types of recreational vehicles, ranging from the most basic—a popup trailer tent—to top-of-the-line Winnebagos that cost as much as a house in some Canadian cities. All can be driven with a regular driving license, except for a Class A motorhome with air brakes, which requires a special licence (though this type of RV is rare). 
How much weight your current vehicle can tow will also dictate what kind of trailer you can haul. Unless you have a bigger SUV or a truck, you may be limited to a tent camping trailer. 
When looking at the options, consider that although gas is cheap now, it may not stay that way for long, and a bigger RV is going to be a gas guzzler. Before you buy, Mahony says renting a few different styles of RV is a cost-effective way to test the waters and see what kind of fits best with your lifestyle.
Here's what you have to choose from in terms of type and cost:
Tent camping trailer
Lightweight and can be towed by most vehicles, it's like a fancy tent so it still feels like you're sleeping outdoors—but with better beds (for up to eight people) and more amenities (high-end tent trailers can include stoves, fridges, and even showers and toilets). Price: $10,000–$25,000.
Hybrid travel trailer
These nifty trailers have pop-out beds that increase living space without adding loads of weight—meaning that they can be hauled by the family SUV or minivan. Price: $12,000–$35,000.
Truck camper
You need a truck to use one, but the camper is easily loaded on and off the truck bed, and easily stored when not in use. Sleeps up to four people, and more expensive ones have kitchens, toilets and A/C; some models are fully winterized for four-season camping.  Price: $15,000–$55,000. 
Class A motorhome
A luxury home on wheels, loved by snowbirds and rockstars like Willie Nelson, and they have everything you need to live very comfortably, indeed, wherever you want to be. Price: $70,000–$500,000. 
Class B motorhome
Also called camper vans, these are easy to drive, park, and more fuel-efficient than larger campers. They sleep up to four, can be winterized, and can still fit kitchens and bathrooms inside. Price: $70,000–$170,000.
Class C motorhome
Built on a van chassis, often with sleeping space above the cab, these campers can sleep up to eight people, and range from basic to super deluxe. These offer plenty of storage space, full kitchens, bathrooms and all the comforts of home. You are attached to your accommodations, though, which can make parking tricky when touring urban areas. Price: $60,000–$200,000. 
Travel trailer
This term covers any trailer you pull behind that isn't designed to sit over a truck. They range greatly in size, from trailers made for two, right up to mega-trailers that sleep 10 and have slide-out compartments to make them wider when parked, and can be as luxurious as you're willing to pay for. A variation on this is the fifth wheel trailer that is designed to only be towed by a bigger truck (usually ¾-tonne, like a Ford or Ram 250) with a special bed-mounted hitch. Price: $18,000–$120,000. 
Financing an RV
Financing is available from dealerships or directly from banks and other financial institutions. Scotiabank bills itself as the number one choice for dealership financing, and offers both variable and fixed-rate loans for up to 20 years (though, as with a car loan, the rate you are offered may vary according to your credit rating). It is always worth taking the rate the dealership offers to your financial institution, and seeing whether they can offer you a better deal. 
Additional costs
RVs cost "about the same cost as a regular vehicle to insure," Mahony says. You'll also need to factor in regular servicing, storage and winterizing. If you don't have the space to park a 35-foot-long trailer in your urban yard, then you'll need to budget for the cost of storing it over winter or whenever you aren't using it. Ask your dealer to break down all of the costs you should expect to pay in your area, Mahony advises.
You'll also need to stock your RV, and may find that some of the containers of stuff you use every day at home might not fit or work in a more compact space, so there may be a little outlay there. 
When it comes to resale, Mahony says that RVs tend to hold their value well, but most people keep them for a long time. You can also consider renting your RV out when you're not using it, through a peer-to-peer rental service like RVezy.  
Buying a used RV
If you're looking for a sharper deal, there are always plenty of used RVs for sale at the same dealerships you'll find new models, as well as through sites like Kijiji or Craigslist. 
When you buy used from a dealership there's some peace of mind in knowing that they've been looked over and probably have some kind of warranty. (Be sure to ask!) However, you can absolutely buy one direct from an owner with a degree of confidence if you know what to look out for. 
My mechanic, Jody Totten of CMD Auto Centre in Truro, NS, has owned three RVs in the past 18 years, starting with a pop-up tent trailer, moving to a travel trailer his family toured around in, to recently purchasing a super deluxe trailer that he has permanently parked up at an oceanfront park. 
Totten says if you have a good relationship with your auto mechanic—even if they aren't RV experts—you should ask them to look over a used motorhome, as they can have the same issues as a used car might. "You'll want to get a technician to check the brakes and the bearings, all that stuff," says Totten. "Ideally, the owner is going to be able to show you a service record so that you can see they've kept up with oil changes, et cetera."
As for the trailer part of a used RV, the main issue you want to check for, says Totten, is whether there's any water getting in and causing damage. "Grab a ladder and get a look at the roof to see that the seals are intact, especially in the corners," he says, noting that most modern trailers have a one-piece rubber membrane covering the roof, and these can become damaged. Trailer tents will have a hardtop, but you still need to check the seams of the tent for leaks. "On the inside, it can be hard to detect water issues if the trailer is dry; but test the flooring on the inside of the trailer near the walls to see whether it feels spongy, as that is a sign that there are issues with water entering the trailer," Totten says. 
As with any used vehicle, there may be some issues that can be fixed—but it's a good idea to know what you're walking into and how much those fixes will cost. Again, this is where a mechanic can help. Even if they aren't that familiar with RVs, they are going to be able to advise on all things related to the engine, as once you lift the hood, RVs work the exact same as any other engine. 
If there are issues with seals or electrics inside the trailer, ask a local dealership whether their repair shop will take on jobs even if you didn't buy the RV from them. 
Buying used doesn't disqualify you from financing. Scotiabank, for example, will finance an RV that's up to 12 years old. Ask your financial institutions about options.
Where do you want to go?
While an RV gives you the freedom of the road in exchange for the high price of gas, you've also got a lot of freedom in terms of where you stop for the night. Provincial parks and national parks offer sites especially for RV camping, often with hookups for water and electricity. And then there is a massive network of privately owned parks right across Canada. These parks offer a huge range of amenities, from the Cuban-themed Havana Resort (it offers everything you'd find at a Cuban all-inclusive) in Maricourt, QC; to the Yogi Bear's Jellystone Park Camp-Resorts in Ontario and Newfoundland, with water-parks and mini-golf; and the most beautiful remote sites such as Meat Cove Campground on the eastern tip of Cape Breton. 
Camping fees vary but, generally, you're looking at spending between $30 and $40 a night to park in a campground. There are exceptions, though, CanaDream's Gretzmacher says. "I recently stayed at a campground in an old-growth forest right on the ocean in Tofino, BC, and paid $120 a night. Whistler is also similarly expensive because there is so much demand," says Gretzmacher. Consider, though, that staying at a hotel or resort in Tofino or Whistler could cost a lot more.
It's worth noting some families camp at the same campground for the entire length of their stay, letting their kids roam safely and enjoy all the amenities, while parents get to just chill. You don't have to plan a grand adventure with lots of driving. Mahony estimates 50% of the RVs owned by Canadians are permanently parked up at campsites, with owners heading there for the summer or weekends whenever they can. 
Renting an RV
For our CanaDream RV trip, the total cost for a week in a swish Maxi Motorhome that sleeps up to four adults and two children (I'm travelling with my husband, teenage daughter, and sons ages five and seven) works out to $1,590, with taxes and insurance. Mileage of 100 kilometres per day is included, and the cost goes up if you are planning on putting more kilometres in. We are also getting "convenience kits" at $95 per person, which means we don't have to bring our bedding and kitchen equipment from home. We will pay the extra $5 a day insurance that covers you breaking any mirrors or windows. (Be sure to check exactly what is and isn't covered before signing any rental agreement, just as you would with a rental car.) 
Because our RV has a full kitchen, I'm planning on cooking most meals onboard, hopefully saving a bunch of cash. Eating out usually takes a huge chunk of our vacation budget, and frankly, I resent buying my children meals they don't eat, so I'm looking forward to saving money this way. I'll splurge on the odd lobster supper and treats along the way, but we'll buy the basics before we set out because the motorhome has a big fridge and freezer.
There are other rental companies, both national and local, so you can shop around. Another interesting rental option is peer-to-peer RVezy, which operates like Airbnb but with campers, and you'll find everything from massive Winnebagos to vintage Airstreams and adorable old-school Boler trailers listed on their site. What's cool about RVezy is that you'll find people offering campers everywhere,and not just in major cities. They offer delivery to campsites, and often the pricing is lower because there's a huge variety of rentals available. Fees can work out as approx 30% to 40% less than a conventional rental, says Michael McNaught, COO and president of RVezy. Insurance is also included in the rental price. "Another thing with RVezy is that the campers often come fully equipped and have extras like DVDs and board games," says McNaught. 
Wherever you choose to rent, be sure to ask about the company's COVID cleaning procedures in advance. In theory, RVs are a super safe vacation option right now. "You can even pick up all your groceries before your trip and then you don't need to interact with anybody except your family if you want," says Gretzmacher. 
I am a little nervous about driving a 33-foot-long motorhome along the winding coastal roads of Cape Breton, but Gretzmacher told me I'll be fine, and that I'll be equipped with video instructions on CanaDream app (in non-COVID times, a staff member would have taken me through the how-tos). "They have backup cameras, they're easy to drive, and using hookups is simple," he assured me. Fingers crossed, eh?
I'm excited about our RV trip, and I'm seeing it as a possible introduction to us buying a trailer of our own. I love the idea of seeing more of Canada and being to haul our home comforts with us. After spending a week with my family in an RV, I'll have a much better idea of whether that works for us, or not, and whether we should splurge on one. I'm attracted to the idea of spontaneously heading off every weekend to explore somewhere new, without needing to book accommodations or pack up everything each time. 
But if I spend the whole week wishing we'd just booked hotels, I'll know RVing isn't for us!
MORE ABOUT TRAVEL: