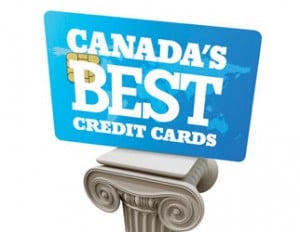 Go to Canada's Best Credit Cards of 2013.
We show the top cards for you, depending on your goals and spending patterns. This list is based on scenarios and assumptions, and may vary from how you actually use your cards. Our data is current as of July 2012.
For all cards, we used a five-year average for rewards, dividing the benefit of any sign up bonus points across the five years. We only included sign up bonuses or teaser interest rates that were standing offers, excluding those with specific deadlines. We deducted annual fees from the value of the rewards.
We looked at more than 100 credit cards issued by RBC, TD, Scotiabank, BMO, CIBC, National Bank, HSBC, Capital One, MBNA, President's Choice, Canadian Tire Financial, American Express and Desjardins. We did not look at every card offered by each issuer.
Extra rewards for various spending categories were calculated based on the following spending patterns:
Groceries: 20% of spending
Gas: 10% of spending
Pharmacy purchases: 10% of spending
Travel: 10% of spending
American Express sponsored stores: 10% of spending
Air Miles sponsored stores: 50% of spending
If extra rewards were given for gas from a specific retailer, we assumed all gas was purchased there. If extra travel rewards were given based on using a certain travel agency, in most cases we assumed all travel was booked through it. Other reward bonuses tied to specific retailers, such as extra points for spending money on specific restaurants, weren't factored in.
For travel cards, we looked at how many flights you would earn, basing the value of the flights on the 3-day average prices on 25 common routes. If the flights required redemption of miles or points, we used the average of the appropriate redemption schedules as published by the provider.
For merchandise cards, we based our calculations on the amount of points/miles you need to purchase gift cards.
For student cards, we calculated the total cost of interest and fees less any rewards at various spending levels. We assume the monthly spending level was equivalent to the standing unpaid balance on the card.