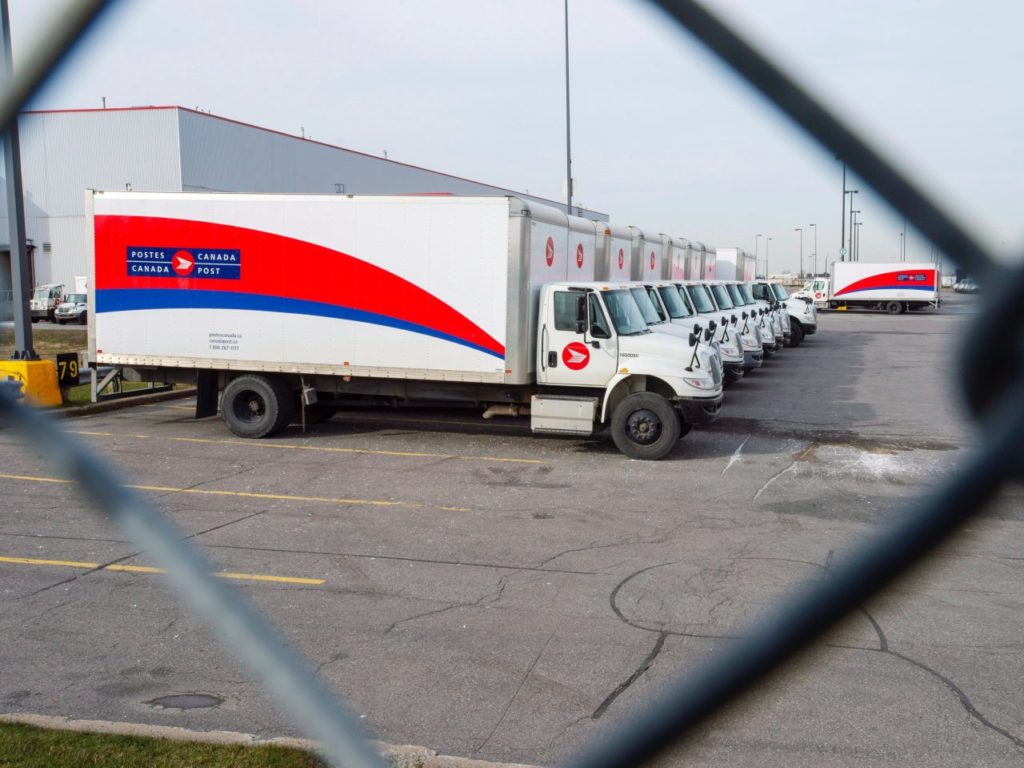 Update: On November 22, the Trudeau government introduced legislation to force an end to rotating strikes by Canada Post employees.
Canada Post has been on "rotating" strikes since October 22, and Black Friday — one of the busiest online shopping days of the year — is coming up fast. Understandably, many retailers and customers are worried about whether packages will make it in time for the holidays.
That's not the only thing at stake: Elections B.C. has seen a low turnout for a (primarily mail-in) referendum on electoral reform, blamed in part on the fact that thousands of ballots are reportedly stuck in Canada Post warehouses due to the strikes. Freelance workers have raised concerns about payment delays and others have told the CBC they're stuck waiting for the results of medical tests.
Here's everything you need to know about why workers are striking — and what it means for your mail.
When did Canada Post workers start their labour action?
When crown corporation Canada Post and the Canadian Union of Postal Workers (CUPW) couldn't reach an agreement regarding new contract demands after year-long negotiations, the union announced it would begin strikes across the country on October 22. In order to minimize the effect on customers, each strike is meant to last only 24 hours per city, with different strike locations on rotation.
Is there a way to keep track of where the rotating strikes are happening?
You can keep up via both Canada Post's website and the CUPW website.  Canada Post wrote in a customer update that the strikes "have touched virtually every Canada Post facility and every Canadian address so far."
Why are Canada Post workers on strike?
The union cites a range of concerns, but one big one is the disparity in pay for urban and rural postal workers. Urban carriers are paid by the hour, and rural carriers are paid based on the size of their route (which, in practice, means urban carriers are paid more). CUPW also points out that most urban carriers are men, and rural carriers tend to be women. It affects about 8,000 rural and suburban employees (compared to 42,000 urban Canada Post employees).
Critics of the strikes have pointed to the 2016 Canada Post Review that found that Canada Post workers have the "highest level of total wages and benefits compared to its competitors and its subsidiary, Purolator, as well as the highest productive hourly rate (i.e., labour cost per hour worked) vs competitors. (This holds true for both Canada Post's "inside" sorting workforce and its "outside" delivery workforce.")
What are Canada Post workers asking for?
The postal workers' union is asking for Canada Post to address workplace injuries, which, according to CUPW statistics, have increased by 43 per cent over the last two years. They have also called for Canada Post to address pay equity, "job preservation" and for a national overtime ban that limits work weeks to 40 hours and eight-hour days (due to concerns of frequent overwork). Last weekend, they called for the federal government to appoint a mediator to help both sides reach an agreement.
What does this mean for my packages?
Although each city is only affected 24 hours at a time, strikes at distribution hubs and sorting centres have led to an estimated 30-day backlog, according to the CBC. Mail and parcels are shipped to these centres before distribution, and the CBC reported there were 600 unloaded tractor-trailers with around 2,500 parcels in each one. The situation is especially bad in southern and southwestern Ontario, because of a backlog of hundreds of transport trailers sitting idle at its main Toronto sorting facility.
Distribution centres in Vancouver, Edmonton and Montreal are also experiencing severe backlogs, and packages are backing up at border points, despite a plea from Canada Post to its international partners to halt shipments. "International items will require screening by the Canada Border Services Agency and we are working in partnership with them to manage the significant existing backlog," Canada Post spokesperson Jon Hamilton told the Canadian Press.
Canada Post suspended delivery guarantees for parcels on November 13 "until further notice." On Tuesday, Canada Post said that delays of parcel and mail delivery would continue into 2019. "Our focus across the country is to process and deliver as much as possible on a first-in, first-out basis," Hamilton said. In other words, you'll still get your packages — eventually — but there is no guarantee as to when.
When will Canada Post deliver my mail?
Paper mail is backlogged as well. However, CUPW has confirmed that it will continue delivery for essential cheques, such as the Canada Child Benefit (CCB) and the Working Income Tax Benefit. Other benefit cheques may be delayed.
What about letters to Santa?
Canada Post's popular annual program, which lets kids write letters to Santa — which are then answered by "elves" — is still on this year. However, a union spokesperson told Global that postal workers will still "be able to volunteer with the program, but with delays in some cases." In other words, write that letter now.
When will the Canada Post strike end?
Postal service is considered an essential service, meaning that the government can legislate workers back on the job. (The federal Conservatives did this during the 2011 strike.) On Tuesday, Prime Minister Justin Trudeau repeated his call for both sides in the dispute to resolve their differences soon. "We are, of course, very preoccupied with the fact that Christmas is coming, important shopping days are coming and we need to see a resolution to that. As I've said many times, all options are on the table," he added when asked whether he was prepared to table back-to-work legislation.
CUPW rejected the most recent offer from Canada Post on November 17. Canada Post has agreed to resume mediation if the union agrees to a temporary "cooling off period" to address the upcoming busy holiday season — that means there would be a pause on strikes and labour disruptions until January 31. The corporation is also offering up to $1,000 per member if they agree to the cooling off period, among other requests and proposals.
On Thursday morning, the Trudeau government introduced legislation to force an end to the rotating strikes by Canada Post employees. Labour Minister Patty Hajdu tabled the bill in the House of Commons just one day after a special mediator was re-appointed in an effort to reach contract agreements between Canada Post and the Canadian Union of Postal Workers.
Their union has warned of a legal battle if the federal government passes the back-to-work legislation, calling such a move unconstitutional.
Do I have any other options to make sure my purchases get delivered by the holidays?
Andrea Stairs, general manager of eBay Canada, says some larger retailers may offer alternative shipping methods, like FedEx and UPS, although those alternatives will cost more. Small businesses which often cannot afford to offer courier services will be at a disadvantage.
With files from the Canadian Press