Despite the steady flow of retirement savings crisis headlines in recent years, it seems many Canadian couples haven't even discussed the topic with their significant others, let alone started a savings regime.
Last week, RBC reported that 68% of not-yet-retired Canadians 50 or older who participated in its annual retirement poll have yet to discuss their post-career lives with their partners. Eighty-six per cent are reluctant to discuss health issues, 81% don't want to raise the topic of what happens if one of them dies sooner than anticipated and two-thirds haven't discussed what they will do together in retirement. And astonishingly, only 36% have discussed how to finance retirement and where they would live once it occurred.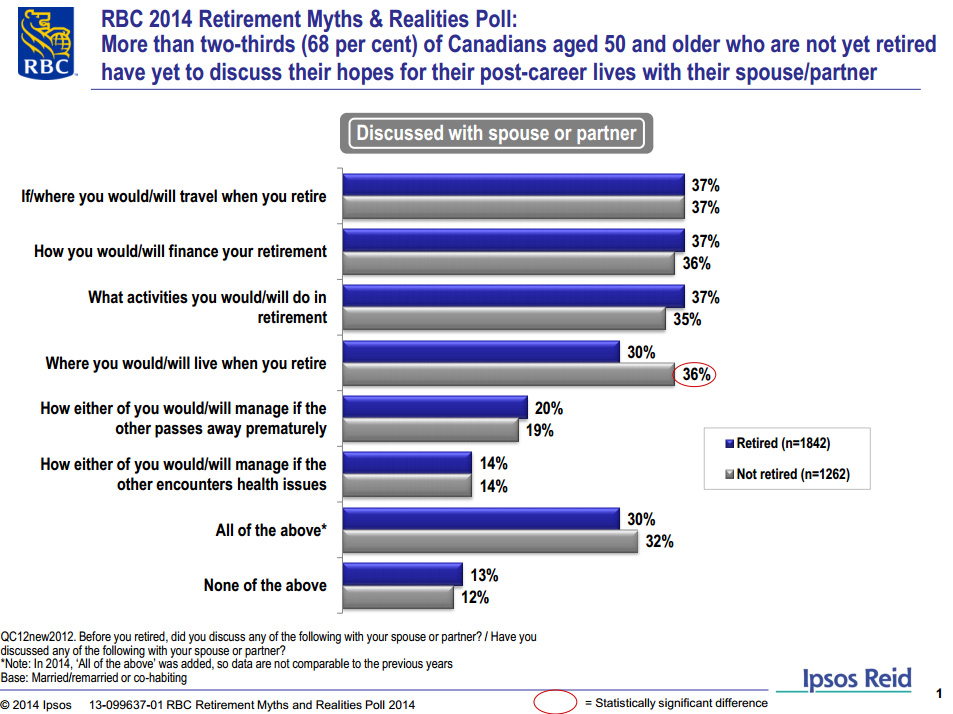 Retirement preparedness is no better in the United States. Thirty per cent of American workers have less than US$1,000 in savings and investments while three-in-four have less than US$30,000 saved in their retirement accounts, according to data from 2012. Similar to what RBC found, 56% of Americans have not tried to calculate how much they need for retirement. Little wonder the average expected retirement age in that country has risen from 60 in the mid-1990s to 67 today. In other words, many will merely wait for social security to kick in. As it stands, 35% of Americans over 65 rely entirely on social security for their income and 40% of U.S. baby boomers plan to work until they die, according to a 2010 AARP survey.
It's clear that couples on both sides of the border can do better to prepare for their post-career lives and the first step is talking about it. Do you plan to work part-time or launch your own entrepreneurial venture once you leave your day job? Does your partner hope for the same?
Mark Venning recommends those 55+ plan for extended longevity, not the traditional full-stop retirement. Canadians can now expect to live to almost 82, versus just 57 in 1921, according to the most recent figures from Statistics Canada.
Imagine the daunting prospect of "retiring" at 60 or soon after and having to live another 40 years without a paycheque? As The National Post recently noted, some gerontologists are suggesting Canadians could expect to live to 120 in the near future. Now there's a scary thought experiment: living 60 years without a paycheque!
The way I see it, those of you without a solid savings plan are either going to have to work a very long time into old age or hope for "Freedom Six Feet Under" before you run out of money.