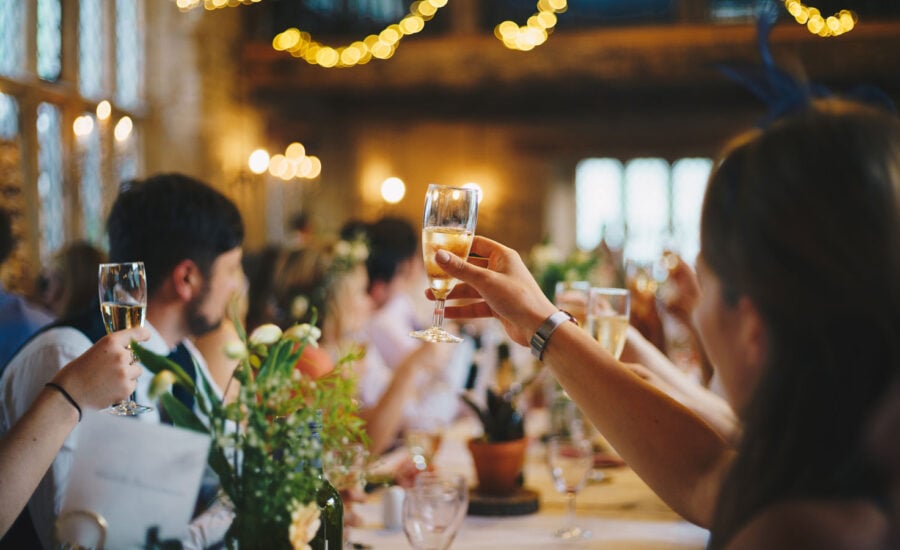 "But you're getting married! You have to!" That empty statement is on the other end of everything from wedding cakes to bachelorette parties, lace veils, engagement photo shoots and selfie stations. It seems that from the very minute you are betrothed, everyone and their mother (perhaps especially your mother) has opinions about what you should do at your wedding. The notion that couples will only have their big day once is also used to justify tossing their financial goals out the window, and the results aren't very romantic.
According to a survey from BMO Financial Group, Canadian couples dip into their savings and investments to front more than half (60%) of their wedding costs. For most North American couples, it is almost accepted that getting married is going to end in a sizeable debt and some serious financial stress. Does that have to be the case?
Say it with us now: It is not worth it. No wedding is worth stress breakouts, zero sex drive, fighting with your partner, or going into debt over. The Institute for Divorce Financial Analysis reports that money issues are one of the three leading causes of divorce in North America. So while couples might feel like it is totally worth it to max out your credit card, borrow money, or talk yourself into going over budget in order to have The Perfect Wedding, it isn't. A review of 115 studies about divorce found that couples who argue about finances at least once a week are 30% more likely to get divorced and couples who spend liberally on their weddings are more likely to divorce than couples who stick to a tight budget.
At the risk of putting too fine a point on the matter, the financial implications of weddings are very, very real.
The average wedding cost in Canada
Estimates range that in Canada (at least before the arrival of COVID's micro weddings), the average wedding costs between $22,000 and $30,000 (slightly more, at around $33,000 in the U.S.). Some report that the cost of weddings have doubled in 10 years, while the median annual family income in Canada increased about 26%. It just doesn't square: We're spending heaps of money on weddings that have outpaced our salaries (and for many couples starting their lives together, the ability to buy property together), and what's more, divorce rates aren't really budging. What is driving all of this hoopla?
A massive machine called the wedding industry, to the tune of $72 billion globally. For couples trying to climb out of the tulle and champagne and keep their heads (and their budgets) straight, they have an uphill battle. The pandemic has prompted a reckoning in the sector, with couples opting for smaller, more intimate (and drop dead romantic) nuptials that are high on emotion and easier on the wallet. Prioritizing sustainability has couples looking to rent or buy previously loved attire, rather than spring thousands for a gown that will be worn only for a few hours—that's likely made from a poly (i.e. plastic) blend, that will never, ever decompose, should it end up in a landfill. All of these factors, and more, are contributing to a realness and practicality for weddings in general and wedding budgets in particular.
How to cut wedding costs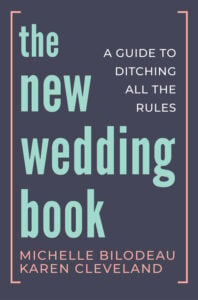 We dove deep into this very topic while researching The New Wedding Book: A Guide to Ditching all the Rules (Dundurn Press, 2021).
Tell a little lie
When shopping around for a venue and vendors, withhold the small detail that it is for a wedding. By conveniently leaving out that particular, you'll get a clear sense of a cost without it being inflated because it is a wedding. If a vendor doubles their price when you do tell them it's for a wedding, decide, "Is this really someone I want to be part of my wedding day?"
Prioritize three things that matter the most
Identify three things that are really important to you as a couple. Maybe it is the catering because you love food, a great band to dance the night away to, and a photographer whose work you love. Shop around for those items first so the rest of your budget can fall in line.
Have a smaller wedding
It sounds harsh, but it is really simple: invite fewer people to your wedding and your costs will go down.
Ask your vendors for their advice
People seem shy about asking vendors if they have any advice to trim their budget. Put on your adult pants and do it!
Cut your stationery
"Save the date" mail-outs are good for two things: Adding waste to the environment and blowing your budget. Moreover, is having that oversized square envelope that requires double the postage really worth it? Who is to say that you need printed invitations at all?
Skip the limo
They're expensive and sort of a prom throwback. Roll up in an Uber Black car or take a taxi.
How much should you give for a wedding gift? 
If you're attending a wedding (or two or 10) this year, you might want to start budgeting for gifts. There are lists out there that give dollar amounts based on the relationship you have with the person, but it's hard to put a monetary value on a friendship or familial relationship. Take your relationship with the couple into account—you don't want to get the most expensive item on a distant cousin's wedding registry if you're not particularly close with them. You also don't want to go into debt over a wedding gift. See what fits within your budget. Consider whether it's a local wedding or a destination wedding (if travel is involved, you'll need to factor in that cost) and your level of participation in the wedding (the more involved you are, the more effort you might put into your gift). Bottom line: There's no "right" amount to spend, so check out the couple's registry, ask people close to them if there's anything they'd really like, or tuck some cash into a card. 
Are there any "rules" for wedding gift amounts?
You might have heard the rule of thumb for wedding gifts: You should give at least what the couple spent on having you attend their big day (often, the cost per head for the reception). But this is really a made-up wedding custom. It's best to consider the four factors discussed above: your budget, your relationship to the person, your level of involvement in the wedding, and the type of wedding it is. 
What MoneySense readers say
In a Twitter poll, we asked about your approach to giving wedding gifts. Vote below:
https://twitter.com/MoneySense/status/1656735870718705664?s=20
Video: Five things to know about joint bank accounts

Read more about weddings: