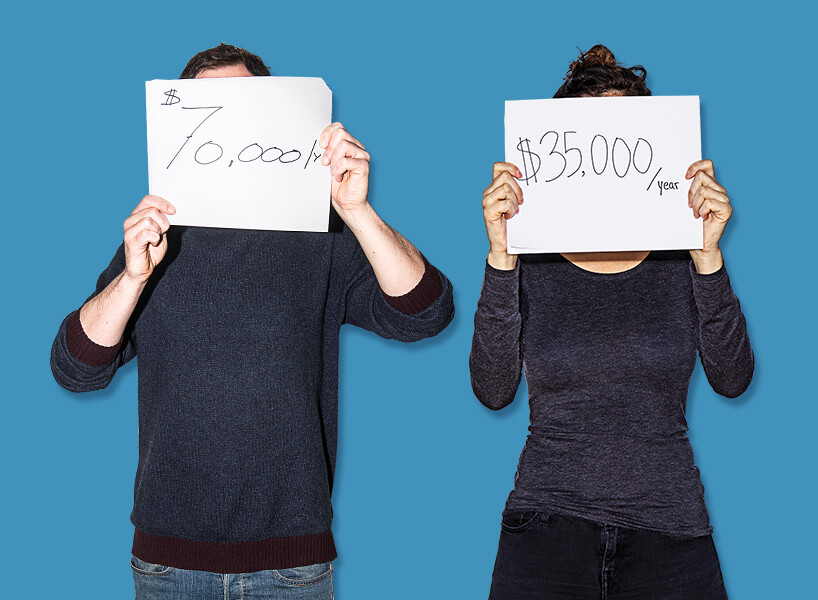 The two people pictured above had the exact same job and level of experience. Both were a year into working as operations specialists at the same tech startup in Toronto. As part of the company's reorganization, the young woman was soon promoted to a supervisor role. Despite the promotion, she discovered she was making up to $35,000 less than her coworkers, like the one pictured beside her.
No matter how you break down the data on the gender wage gap, women still earn less than men in Canada. In fact, according to Statistics Canada, full-time working women earn 26 percent less than full-time working men. In a recent series of articles, our friends at Maclean's dove into the pay gap and found that the numbers—which are frustrating as eff—stem from systematic issues, such as the higher percentage of women working part-time as well as the inherent bias of some employers.
So what does this actually mean for you? How can you find out if you're being paid fairly—or if, in fact, your income has been impacted by the gender pay gap? And if you do discover that you're being paid less than your male colleagues, what can you do about it?
Unfortunately, there are no simple answers so we turned to the experts to help us figure out how to ensure that we're making what we're worth.
How to find out if you're being paid fairly
The first step to figuring out whether or not you fall into the gender pay gap is to start talking numbers. And that is exactly what the coworkers in the photo discovered. People often don't figure out whether or not they're being underpaid because cultural norms—or in some cases, company policy—make it difficult, and often extremely uncomfortable, to have conversations about earnings. That said, having this discussion is necessary.
"There's no way to know what you're worth unless you talk to other people and find out what they are making," says the woman pictured above. "There needs to be more transparency. The only want to make the pay gap go away is to make it something people can't hide behind."
And let's be clear, talking about numbers isn't just important for women. The man pictured above says that being open about salaries helped him better understand the challenges facing some of his colleagues.
"I was completely in the dark about the pay inequality going on around me," he says. "We need to be more open about what's going on or else things will never change. I don't think people always realize how real the pay gap is, especially when you work in silos and talking about salaries is frowned upon."