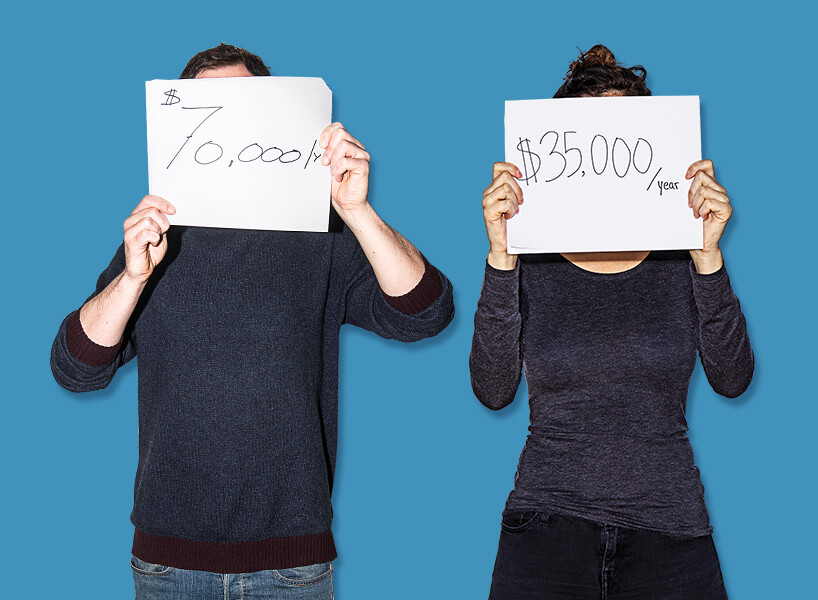 The two people pictured above had the exact same job and level of experience. Both were a year into working as operations specialists at the same tech startup in Toronto. As part of the company's reorganization, the young woman was soon promoted to a supervisor role. Despite the promotion, she discovered she was making up to $35,000 less than her coworkers, like the one pictured beside her.
No matter how you break down the data on the gender wage gap, women still earn less than men in Canada. In fact, according to Statistics Canada, full-time working women earn 26 percent less than full-time working men. In a recent series of articles, our friends at Maclean's dove into the pay gap and found that the numbers—which are frustrating as eff—stem from systematic issues, such as the higher percentage of women working part-time as well as the inherent bias of some employers.
So what does this actually mean for you? How can you find out if you're being paid fairly—or if, in fact, your income has been impacted by the gender pay gap? And if you do discover that you're being paid less than your male colleagues, what can you do about it?
Unfortunately, there are no simple answers so we turned to the experts to help us figure out how to ensure that we're making what we're worth.
How to find out if you're being paid fairly
The first step to figuring out whether or not you fall into the gender pay gap is to start talking numbers. And that is exactly what the coworkers in the photo discovered. People often don't figure out whether or not they're being underpaid because cultural norms—or in some cases, company policy—make it difficult, and often extremely uncomfortable, to have conversations about earnings. That said, having this discussion is necessary.
"There's no way to know what you're worth unless you talk to other people and find out what they are making," says the woman pictured above. "There needs to be more transparency. The only want to make the pay gap go away is to make it something people can't hide behind."
And let's be clear, talking about numbers isn't just important for women. The man pictured above says that being open about salaries helped him better understand the challenges facing some of his colleagues.
"I was completely in the dark about the pay inequality going on around me," he says. "We need to be more open about what's going on or else things will never change. I don't think people always realize how real the pay gap is, especially when you work in silos and talking about salaries is frowned upon."
It's definitely easier said than done so Eileen Dooley, vice-president of Calgary-based career transition agency Gilker McRae, advises starting with those close to you, and making the ask a bit more general. 
"The best way is to ask friends or colleagues," says Dooley. "You do not have to ask what their specific salary is, as many deem this personal (although it is getting less personal I observe), but you can ask for them to give you a range."
Some information can also be found online. In certain provinces, like Ontario, public sector employees paid over a certain amount have their salaries listed by the government. Dooley also recommends checking websites like Glassdoor that can give you a sense of what other people in similar jobs are making—but be advised that the information may not be 100-percent reliable.
How to talk to your boss
OK, so after talking numbers, you found out that unfortunately, you are being paid less than your male colleagues. But how do you bring this up with your boss or company?
Sarah Kaplan, director of University of Toronto's Institute for Gender and the Economy, says it's important to be prepared before sitting down with the higher-ups. "The best thing you can do is take as much documentation you have about the wage differences and approach your boss and say, 'I just want to understand why there might be this difference,'" says Kaplan. "All you can do is be as evidence-based as possible and go have that matter-of-fact conversation."
The documentation that you collect can be a combination of what you've learned from colleagues and web research, as well as any research you have on the market and pay scales at your company. If these numbers are not readily available, consider speaking to human resources or your union representative for more information.
Dooley adds that even though finding out that you're being underpaid can be frustrating, it's important to try and work with your employer to find a solution. "You can approach your human resources partner and ask for clarity on the matter–do not go in accusing someone of something. Seek [a solution] in a cooperative, collaborative fashion (at first)," she says. "If HR is not an option, go to you supervisor and have the conversation."
In addition to making sure that the conversation is more constructive than confrontational, Kaplan says that it can help to frame the conversation in terms of the larger issue of pay equity.
"It's worth it to call companies on that and put them on notice, but again, it might be easier to couch it in the broader terms and talk about how we know from research that when people are under-compensated, they get demotivated and less productive and are more likely to leave—and you don't want to be one of those people," she says. "Try to make the negotiation less personal and based on other sources of authority."
Should you consider leaving your job?
Shortly after finding out that she was making thousands less than her male colleagues, the woman pictured above left her company for another role in tech where she now feels she is being compensated more fairly. This type of response is something that we've seen in the news a lot lately, such as with E! News reporter Catt Sadler—but if your employer will not raise your pay, is leaving something you should consider?
"People leave jobs for many different reasons, and pay is certainly one of them. You need to ask yourself if the value of the organizations fits with your personal values, and one of them being equal pay," says Dooley. "Although it does not excuse the employer, I firmly believe you need to look after yourself.  You also need to see if you can financially walk away, as many of the Hollywood examples are paid more than the average female worker."
What legal options and resources are available?
In Canada, all provinces and territories have human rights legislation that prohibits discrimination and can be used in pay equity cases. Some provinces (Manitoba, Ontario, New Brunswick, Quebec, Prince Edward Island and Nova Scotia) have specific pay equity legislation, while other provinces (Saskatchewan, Newfoundland and British Columbia) have some policies for negotiating pay equity for public sector employees.
Toronto-based human rights lawyer Fay Faraday explains that the law protects against pay discrimination in three ways:
Equal pay: Women and men doing similar work in the same workplace must be paid the same without discrimination based on sex. In Ontario, effective 1 April 2018, equal pay protection under the Employment Standards Act will be extended to ensure that part-time, seasonal and casual workers must be paid the same as full-time workers doing similar work; and workers hired through temporary help agencies must be paid the same are workers hired directly by an employer who are doing similar work.
Equal pay for work of equal value: This is also known as pay equity. The labour market is still deeply divided based on sex. That means that women and men are still concentrated in different jobs. The more women are concentrated in a job, or the more a job has been historically or stereotypically associated with women, the less it is paid. Pay equity ensures that jobs done primarily by women are paid the same as jobs done by men that have the same value based on skills, effort, responsibility and working conditions.
Human rights protection against discrimination: There are many ways in which hiring, training, promotions, pay and other aspects of work may be discriminatory. Human rights laws protect broadly against discrimination in employment. In Ontario, the Human Rights Code protects the "right to equal treatment with respect to employment without discrimination because of race, ancestry, place of origin, colour, ethnic origin, citizenship, creed, sex, sexual orientation, gender identity, gender expression, age, record of offences, marital status, family status or disability" and also protects against discrimination based on the intersection of multiple of these grounds.
Each case is unique but if you're thinking about going the legal route, find out what resources are available in your province. For instance, for those in Ontario, complaints can be submitted to the Ministry of Labour or the Pay Equity Commission and helpful resources are available through Ontario's equal pay coalition or the publicly funded Human Rights Legal Support Centre. No matter where you are based, Faraday says that community legal clinics, unions and work action centres can also help navigate that next step.
—With files from Alanna Evans