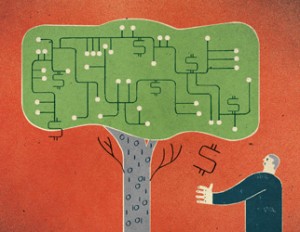 Canadians nearing retirement bore the brunt of the most recent recession because it left them with the least amount of time make the lost ground. If you're in this camp, check out the latest from Bryan Borzykowski, Grow your income, lower your risk, for creative ways to boost your cash flow.
Is your cable bill about to go up? It very well could if regulators make more channels on the dial mandatory.
We're just days away from bidding farewell to the penny and still there's confusion over whether consumers will be able to pay for things with the one-cent coins. Roughly 55% of merchants are ready for the phase out, according to the Retail Council of Canada. Starting on Monday, all purchases will be rounded to the nearest 5 cent mark. In most cases, purchases ending in a 1, 2, 6 or 7 will be rounded down and purchases ending in a 3, 4, 8 or 9 will be rounded up. It's important to note however that retailers can use their discretion whether or not to accept pennies at all. Shoppers and merchants should know that banks will still accept and exchange pennies for cash. More information on the phase out can be found here.