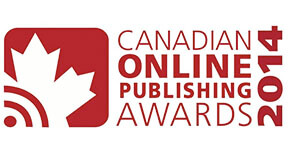 MoneySense was honoured with a gold for best media website at the Canadian Online Publishing Awards in Toronto on Thursday evening.
The award is presented to the Canadian media website "that best serves its target audience through content, design, navigation and overall reader experience." Other finalists competing for best website in the red "consumer niche" division included Canadian Living, which won silver, BCLiving, Toronto Life, and OpenCanada.org.
"I'm thrilled with the award because MoneySense is all about connecting with our readers through a variety of platforms," said MoneySense editor-in-chief Duncan Hood. "We're finding the web is an excellent medium for helping Canadians across the country achieve financial success."
"Our goal online is to help readers find reliable answers to their financial questions as well as introduce them to saving, investing and debt-reduction strategies they hadn't necessarily considered before," said MoneySense senior editor Stefania Di Verdi. "It's a work in progress and we rely heavily on feedback from our readers."
Awards were presented in a total of 15 categories in the red category, 12 categories in the green "media outlet" division, and 15 in the blue "business to business" division. The National Post won the gold for best media website in the green category, and University Affairs magazine won the gold for best media website in the blue category.