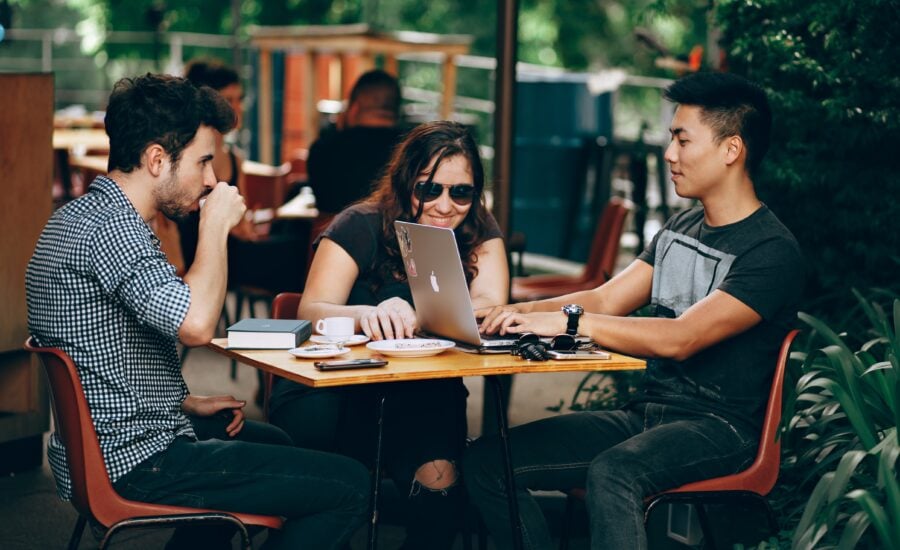 After eight years on the marketplace, the Wealthsimple brand has developed a strong reputation for offering easy-to-use, low-fee financial services online. But it's come a long way since its humble beginnings exclusively as a robo-advisor, branching out to include a discount brokerage (Wealthsimple Trade), and a peer-to-peer money transfer and spending app with a prepaid rewards debit card (Wealthsimple Cash). Of course, the robo-advisor—now called Wealthsimple Invest—is still a major part of the company's business. So which, if any, of these services are right for you? Here's what you need to know about investing with Wealthsimple, including its various product offerings and how it all works.
---
Open a Wealthsimple Invest account*
---
Investing with Wealthsimple: robo-advisor or discount brokerage?
Both Wealthsimple Invest and Wealthsimple Trade are excellent low-fee investment options. Choosing between the two services basically comes down to two factors:
How much time and effort you want to put into managing your investments. 

Whether you're willing to pay higher fees for a truly hands-off option.
If you aren't at all interested in choosing your own investments, Wealthsimple Invest is a robo-advisor, and it's the way to go since you'll get a diversified portfolio of exchange-traded funds (ETFs) designed just for you. Pretty much everything is on auto-pilot once you fund your account, especially if you set up pre-authorized transfers to invest on a regular basis. If your aim is to pay as little as possible in fees and you'd like to choose your own ETFs, stocks and/or want to invest in cryptocurrency, opt for Wealthsimple Trade.
What are the fees for Wealthsimple Invest vs. Wealthsimple Trade?
Wealthsimple Invest charges two types of fees:
Portfolio management fee


This is a percentage of the total amount of money you have invested. For clients with balances less than $100,000, that fee is 0.5%; balances of $100,000 or more are charged 0.4%.

MER


Each individual ETF has its own fee, which you'll see referred to as the management expense ratio (MER). The MERs on Wealthsimple's ETFs average about 0.2%.
Wealthsimple Trade's fees depend on the type of investments you choose:
Stocks


$0. There are no commission fees to buy, sell or trade stocks, and no account or management fees of any kind.

ETFs


All ETFs still have a MER, but you'll literally have thousands to choose from—including those with fees as low as 0.05%. And that's all you'll pay—there are no commissions or account fees.
Crypto


There's a built-in spread (of up to 2%) on the price of cryptocurrencies, but you don't pay any extra fees and there's no cost to deposit or withdraw coins.
The one exception to stock and ETF fees with Wealthsimple is when you're investing in U.S. equities. In that case, you'll either pay a 1.5% foreign exchange fee (because you can only hold Canadian currency in your account under Wealthsimple Trade's basic plan) or you can subscribe to the Trade Plus plan for $10 a month, which lets you hold U.S. dollars in your account so you can avoid the foreign exchange fee.
Read our reviews for Wealthsimple Invest and Wealthsimple Trade below for more information about their fees and services in general. ANCHOR LINKS
Pros and cons of investing with Wealthsimple
Pros:
Easy setup


It takes just a few minutes to set up a Wealthsimple Invest account. After inputting your personal information, including your social insurance number, you answer a survey about your finances and investing interest. Based on your answers, you are matched with one of three broad portfolio types based on your risk tolerance and investment timeline: conservative, balanced or growth. 

No minimum deposit


It's worth noting that while many online investing platforms require a minimum deposit of at least $1,000 when you sign up for a robo-investing account, there's no required minimum to create an account with Wealthsimple Invest. If you fund your account with $5, Wealthsimple will actually invest that $5 into the type of investment you want, from

ETFs

 to registered retirement savings plans (RRSPs) (

if you're wondering how much money you should invest, check this out

.) For Wealthsimple Trade, its discount brokerage product, you can fund your account with as little as $1. 

Low fees


As mentioned above, Wealthsimple Invest's portfolio management fee is either 0.4% or 0.5% (depending on the total amount of money you invest), and you will also pay a MER that starts as low as 0.2%. If you're managing your own investments using Wealthsimple Trade, there are no fees to purchase or trade using the online brokerage. 

Automatic rebalancing


Free when you sign up with Wealthsimple Invest, automatic rebalancing monitors portfolios according to changes in the market, deposits/withdrawals, changes in your risk score, as well as changes in the ETFs themselves.

Dividend reinvesting


With Wealthsimple Invest, your dividends are tracked and are automatically reinvested the day after they are received. They are used to rebalance your portfolio by purchasing toward the ETF that's furthest from its strategic weight.

Account options


For Wealthsimple Invest, you have quite a few choices, including RRSP (as well as spousal RRSP), TFSA, registered education savings plan (RESP), locked-in retirement account (LIRA), life income fund (LIF), non-registered (personal or joint account with no limits), registered retirement income fund (RRIF), cash (for savings and spending), as well as corporate account options. Wealthsimple Trade accounts, however, are currently limited to personal, RRSP and TFSA accounts.

Micro-investing options


With the Wealthsimple RoundUp feature, you link your debit and/or credit card to your Wealthsimple Invest account. Wealthsimple will round up the price of your everyday purchases, and deposit this "spare change" into your Wealthsimple Invest account.  

User experience


Both its app and its website are slick and easy to use. You can track TFSA and RRSP accounts to ensure you don't over-contribute to your registered accounts. (Wealthsimple.com won a Webby Award for Best Financial Services Website—twice.) 

Reputable brand 


Wealthsimple has $15 billion in assets under management, and more than 2 million users. Plus, it's been recognized as one of the top 100 Global Financial Technology Companies by Fintech 100 since 2016.

Passive investing


Wealthsimple advocates low-cost, passive investing using the power of ETFs. The principle of buy-and-hold has been advocated by the likes of Warren Buffet, and ETFs historically outperform actively managed mutual funds over the long term. Another thing about passive investing: because you lose less of your return to fees, that contributes to better net returns. 

They may cover transfer fees


Wealthsimple will 

reimburse administrative transfer fees

 on investments greater than $5,000 in value.

Socially responsible investing (SRI) options


Both SRI and Halal investments are available. These can be a great fit for investors who want to support companies that prioritize environmental and social concerns and have a positive record on human rights and corruption, or who want to keep their money in line with Muslim beliefs.
Cons:
Few human advisors


Access to connecting with human advisors is limited to those with at least $100,000 in their Wealthsimple accounts. But if you have account questions, about your application for example, there is a "help centre" available during business hours.

Tax optimization


When you have a Wealthsimple Invest Black account, a premium service for clients with a total of $100,000 or more in their Wealthsimple accounts, your investments are tracked for losses and gains to help you use a strategy called "

tax-loss harvesting

" that can trim your capital gains tax bill. Unfortunately, this service is not available to clients with a basic account.

Limited portfolio options


Invest, Wealthsimple's robo-advisor, doesn't offer as diverse of a range of portfolio options as some other robo-advisors do, which may prove limiting for those who want a degree of portfolio customization.

No physical branches


Investors cannot meet with advisors in person. If you need to speak with (or email) a human, you can call during regular business hours or send a request to the Customer Success team via the help centre. 

Higher MER for SRIs

Fees charged on socially responsible investing options are noticeably higher and can hover to upwards of 0.4%, as compared to the 0.2% annual fees applied to other investments.
A Wealthsimple review for 2022: Invest, Trade and Cash
Now in its eighth year of operation, Wealthsimple has three main offerings. Here's a look at each.
The robo-advisor service from Wealthsimple is ideal for novice investors, or those who are uneasy choosing their own investments, since it recommends a portfolio of low-fee investments for you.
Clients spend a few minutes answering questions online about their comfort level with risk, age and investment goals. Your answers determine what type of portfolio is recommended: Conservative, balanced or growth. There are also socially responsible investing (SRI) options, as well as Halal-appropriate portfolios.
You can put your portfolio into many different types of accounts, including registered, such as registered retirement savings accounts (RRSPs), tax-free savings accounts (TFSAs), registered education savings plans (RESPs), non-registered accounts and more.
In terms of cost, Wealthsimple Invest's fees are as follows:
There's an overall portfolio management fee of 0.5% for the basic accounts of under $100,000, and it's slightly cheaper, at 0.4%, for Wealthsimple Black, a premium service for clients with a total of $100,000 or more in their accounts.

The management expense ratio (MER) on Wealthsimple's ETFs average about 0.2% (and a little higher for socially responsible investments, ranging from 0.25% to 0.4%).
So, depending on the size of your portfolio and the types of ETFs you have, the total fees could be around 0.6% to 0.7% (or 0.625% to 0.9% for SRIs). What does that look like in real terms? You'd pay about $350 in annual fees for a $50,000 portfolio (or $375 to $450 for a similar-sized SRI portfolio).
---
Open a Wealthsimple Invest account* >
---
For those who want to lower the costs of investing even further—and who are also interested in building their own portfolios with select ETFs, stocks and cryptocurrencies—Wealthsimple's discount brokerage service is an appealing option. That's because all its ETF and stock purchases, sales and trades come free of charge. (You still pay the management fees, or MERs, on ETF holdings, as explained above.) Crypto trades and purchases include a price spread (limited to 2% per transaction), but there are no extra fees on top of that, and there's no fee to deposit or withdraw coins. 

Clients make their transactions online or over a mobile app and can currently hold their portfolios in just three account types: personal (non-registered), TFSA or RRSP.

Open a Wealthsimple Trade account* >

Investors are restricted to ETFs and stocks that are listed on the NYSE, NASDAQ, TSX, TSX-V, NEO and CSE exchanges. There are also limited securities available on the BATS Exchange. There are other limitations as well: Stocks must be priced at a minimum of $0.50 per share and trade an average of at least 50,000 shares daily; and if an asset is a dual-listed security, meaning it's on both a U.S. and a Canadian exchange, only the Canadian-listed asset is available.

On the plus side, fractional shares are available through Wealthsimple Trade, which makes it easy to purchase stocks no matter how much money you have available to invest. And from a cost perspective, free trades are hard to beat, given that many other discount brokerages charge up to $10 a trade. 


Watch: MoneySense – Investing in Cryptocurrency

If you're wondering how Wealthsimple Trade makes money without charging commissions, it says earnings come primarily from a 1.5% currency exchange fee charged on Canadian-to-U.S. dollar conversions (and vice-versa) that are necessary when trading U.S.-listed securities in the basic account. Alternatively, there's a premium $10-per-month plan, called Wealthsimple Trade Plus, which lets you hold U.S. currency in your RRSP, TFSA or personal account. This means, in addition to no commission fees, you'll be able to buy and sell U.S. stocks without the worry of foreign exchange (FX) fees.
Wealthsimple Cash
Originally launched as a no-fee hybrid savings and chequing account in January 2020, Wealthsimple Cash is now a money-transfer and spending app. It provides a secure way to send and receive money with no account or transaction fees and no exchange fees on foreign transactions (aside from the currency conversion itself, of course). You can send or receive any amount of money (no minimums) up to $5,000 per day, there's no limit on the number of transactions, and no security questions (there's two-factor authentication for added security). 
Unlike some other services for sending and receiving money, Wealthsimple Cash doesn't require a phone number or email address—which means you don't need to give out your personal information. (For added privacy, you can control who can find you on the app.) 
As of May 2022, you can now also get a Wealthsimple Cash Card that lets you make everyday purchases, withdraw funds from ATMs and earn 1% back in stock, crypto, or cash on all spending. The card is essentially a prepaid Visa card, so you can use it online or in stores wherever Visa is accepted. 
To use the service, download the Wealthsimple Cash app, claim a unique Dollar $ign (your username for the app), and add funds to your wallet. You'll have access to a virtual Wealthsimple card immediately, and a physical card will be sent to you in the mail. The card is also compatible with Apple and Google Pay. 
Funds in a Wealthsimple Cash account are protected by the Canadian Insurance Deposit Corporation (CDIC) up to specified limits, and you can even get free cash for inviting your friends to use the app.
What is Wealthsimple?
Wealthsimple is a Canadian financial services provider that offers a suite of online products. Wealthsimple Invest is a robo-advisor that offers beginners or investors who prefer to be hands-off a choice of investment portfolios to suit their risk tolerance and financial goals. Wealthsimple Trade is a discount online brokerage, geared towards people who want to be hands-on with their investments. And Wealthsimple Cash is a money-transfer and spending app.
Who owns Wealthsimple? 
Millennial entrepreneur and self-described "boring investor" Michael Katchen launched Wealthsimple in September 2014 as a low-cost, low-effort approach to investing. Since then, CEO Katchen has seen his company transform from a humble Toronto startup to the largest online-only financial services company in Canada, with more than 2 million clients, $15 billion in assets under management and international offices in New York and London.
Wealthsimple is primarily owned by Power Corporation of Canada, under the subsidiary Power Financial. The nearly 100-year-old international management and holding company has over $470 billion in assets, as well as Power Financial, IGM and Pargesa, focusing on insurance, retirement, wealth management and investment businesses, including a portfolio of alternative asset investment platforms. Described as a "Canadian financial giant," Power Financial also has majority stakes in Great-West Lifeco and Portag3.
Is Wealthsimple safe?
The short answer is: Yes. If you're honest about your risk tolerance, then your money should be invested in a way that suits your needs. And that's the case with whatever investment service you choose. Wealthsimple is built to cater to a wide set of clients, so if you don't need that one-on-one care, but want a simple way to create and build a portfolio with little to no maintenance, then it could be for you. 
Another good thing to note: Wealthsimple Trade and Wealthsimple Invest accounts are eligible for protection by the Canadian Investor Protection Fund (CIPF), meaning that if Wealthsimple Investments Inc. goes out of business, securities and cash missing from those accounts (not market losses) are eligible for up to $1-million in losses per account type. Wealthsimple Investments Inc. is a member of the Investment Industry Regulatory Organization of Canada.
What can I do with my money at Wealthsimple?
Wealthsimple is best known for its robo-advisor service, Wealthsimple Invest which is a "set-it-and-forget-it" portfolio of low-fee exchange-traded funds (ETFs). In a nutshell, ETFs allow you to invest your money across an entire market—such as Canadian stocks, high yield bonds, real estate, etc.—instead of trying to pick and choose the winning companies in each market. In this way, Wealthsimple provides an easy solution for clients to diversify their portfolios and earn decent returns on their investments over the long term, with minimal risk.
The company's other main offerings include Wealthsimple Trade, a discount brokerage service that allows DIY investors to purchase stocks, ETFs and cryptocurrency; and Wealthsimple Cash, an app and prepaid debit card that lets you send, spend or receive money instantly with no fees and 1% back in stock, crypto, or cash on all purchases.
(See above for how each of these services works—and how much they cost). 
So, what's not to like?
Wealthsimple clearly makes it easy to invest, trade and manage your cash, with no required minimum amounts, no transaction fees, no trading fees, a user-friendly website and app, and human experts available to help at any time.
There are, however, a few considerations to keep in mind:
Investment options:

 Wealthsimple Invest clients are limited to the boilerplate portfolios that are chosen for them. If you want access to other ETFs, you're out of luck. Similarly, Wealthsimple Trade clients are limited to certain stocks, ETFs and cryptocurrencies, without access to bonds, international equities, precious metals and many other asset types offered by other discount brokers.

Fees:

 While the $350 Wealthsimple Invest annual fee from our example above might not sound too bad, consider what happens once your portfolio is in six-figure territory. Even with the management fee drop to 0.4% for accounts over $100K, once you add in the ETF fees you're looking at total fees of about 0.6% (or up to 0.8% for SRIs). That's $600 to $800 in fees per $100,000 in investments per year. As for Wealthsimple Trade, the no-fee Basic plan will be attractive to many, but the 1.5% currency conversion fee might prove too costly for those who wish to invest in U.S. stocks and ETFs. If buying and selling U.S. equities is important to you, there's a Wealthsimple Trade Plus plan that allows you to hold these investments in U.S. currency without the worry of foreign exchange fees, but it costs $10 a month (so, clearly not no-fee).

Account types:

 While other discount brokerages offer a full range of accounts, including RESPs, LIRAs, RIFs, LIFs, and margin accounts, Wealthsimple Trade has only personal, TFSA and RRSP accounts.
Bottom line: Should you use Wealthsimple?
There's no question that would-be investors who might otherwise endlessly procrastinate on setting up a portfolio will benefit big-time from Wealthsimple Invest's robo-advisor services. Investing in a broadly diversified portfolio of low-fee ETFs will always earn more than bank interest over the long term, and is a sure way to keep the purchasing power of your savings from being eroded by inflation.
Similarly, DIY investors who want to buy and trade ETFs and stocks will undoubtedly save money on fees with the commission-free Wealthsimple Trade service.
On the other hand, Wealthsimple Invest clients with larger portfolios may want to consider other robo-advisors that may offer lower fees, and DIY investors who want more options in the types of investments and accounts available to them should check out other discount brokers.
In terms of Wealthsimple Cash, you don't earn any interest on the money in your wallet, but the no-fee aspect (including no exchange fees on foreign transactions) and 1% back in stock, crypto, or cash on all purchases will appeal to many.
What does the * mean?
If a link has an asterisk (*) at the end of it, that means it's an affiliate link and can sometimes result in a payment to MoneySense (owned by Ratehub Inc.) which helps our website stay free to our users. It's important to note that our editorial content will never be impacted by these links. We are committed to looking at all available products in the market, and where a product ranks in our article or whether or not it's included in the first place is never driven by compensation. For more details read our MoneySense Monetization policy.