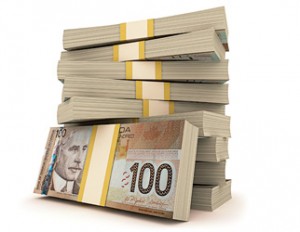 It depends on how luxurious a retirement you want. To get a rough idea, start by adding up how much annual income you think you'll need in retirement; then subtract the amount of money you expect to get from your company pension, Canada Pension Plan and Old Age Security. Then multiply that amount by 30. That's how much you need to have saved by the time you retire, says Jim Otar, founder of RetirementOptimizer.com.
Here's an example: You and your spouse are together earning $100,000 a year. Most retirees can live comfortably on half their pre-retirement income. That's $50,000. Many couples in that situation will get about $33,500 a year in retirement income from the Canada Pension Plan, workplace pensions and Old Age Security, so you'll need an additional $16,500 a year from your own savings. Multiply that by 30 and you get close to $500,000. That's the amount you need to have banked by the time you retire.
How do you know whether you're on track to reach your goal? The chart below offers some sample numbers, based on a few realistic assumptions. The first is that in the early years of your career, RRSPs won't be a priority. If you're in your 20s, you're probably too busy going to school and getting your career started to contribute. Any extra money you do earn should go towards paying down debts. By your early 30s, the mortgage, cars and kids are weighing you down. It's okay to skip RRSP contributions during these years too, says Malcolm Hamilton, an actuary with Mercer, a human resources and consulting group—as long as you don't make the mistake of overspending and digging yourself deep into debt.
Once you're in your mid-30s, it's time to start attacking those RRSPs. To reach the $500,000 goal (in today's dollar), you and your spouse would have to start putting $10,500 a year into your RRSPs at age 35. These calculations are based on a 5% annual return and yearly contributions that rise 2% annually to keep pace with inflation. Don't fret if this timetable sounds ambitious. Even if you can't come up with $10,500 every year in your 30s, you'll probably be able to catch up in your 50s with larger contributions. By then, your mortgage should be paid off and the kids finished university. That's when you need to get really serious about putting money into RRSPs if you want to make that $500,000 target.
AGE | VALUE OF RRSP
25 $0
35 $0
45 $121,500
55 $283,500
65 $500,000