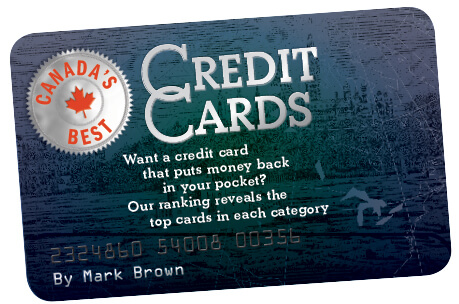 Cash or credit? Does that question make you stop and think? Here's some advice: if you're responsible with your money, ditch the cash and go with plastic. Retailers might take issue with this, however, as it costs them extra every time someone uses a rewards card. They've been fighting the credit-card companies on this issue, but so far it's been a losing battle. So to stem the losses some retailers have been quietly raising prices. In other words, if you're not collecting points, you're paying higher prices without getting any benefit.
While some see credit cards as weapons of mass consumption, in the right hands they can be earning tools. We're not talking chump change, either. If you spend $1,000 a month you can get back $150 to $200 a year in rewards if you have the right card. That's just some of the "free" money you'll uncover in MoneySense's third annual credit card ranking.
Over the years we've learned how to determine the true value of the nebulous points or miles these cards give you. Despite marketing claims, we've found that 1% cash-back isn't always 1%; you often need to redeem more points than you expect for a flight or product, and some issuers won't explain exactly how a card works—until after you sign up.
We spent hundreds of hours combing through the fine print of cardholder agreements, calling customer service and, for some particularly complex cards, going line by line through credit-card statements to decode how they work. We factored in fees and looked at the value of the points over five years to ensure we weren't unduly influenced by large sign-up bonuses. If you get extra points on items like gas and groceries, we factor that in. The rate at which you earn points often depends on how much you spend, so we averaged the results from different spending levels into our calculations. We also note some of the best insurance benefits and other perks so you can take advantage of them. That's because we believe responsible credit-card holders can be rewarded generously if they hold the right cards.
Many people prefer the simplicity of a card that gives them cash instead of points. However, the rules on these cards are anything but straightforward. We show you the best credit cards after factoring in fees, sign-up bonuses and spending caps.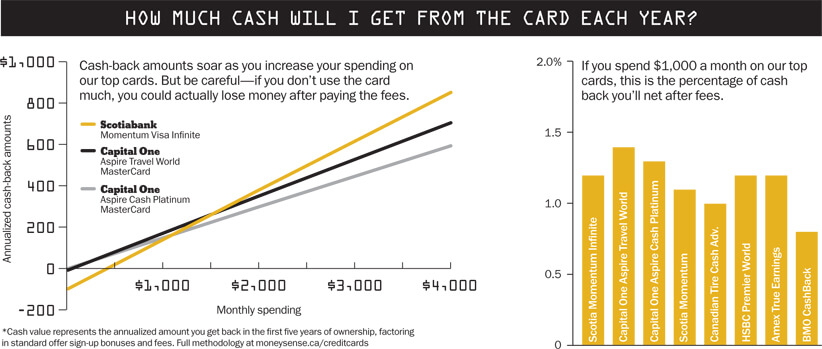 *See the top 8 cards in the Canada's Best Cash-Back Cards category.
Be honest with yourself: if you're going to carry a balance at any point during the year, you're probably better off forgetting about rewards points. Instead, get a card with a low interest rate. These are the cheapest cards to use, factoring in interest and fees.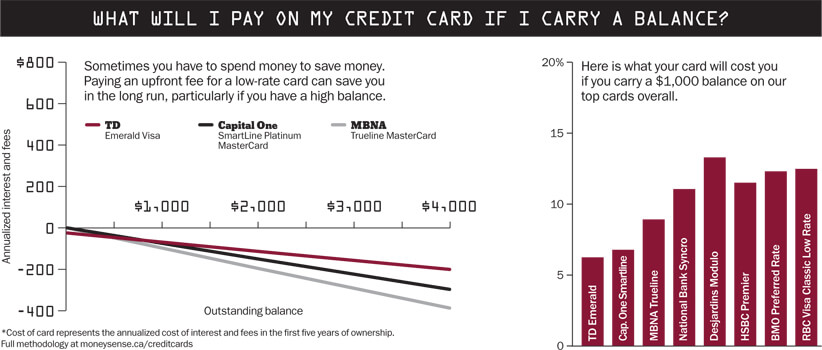 *See the top 8 cards in the Canada's Best Low-Rate Cards category.
These are the best cards if you like to redeem your points for electronics, gift cards or other merchandise. They also provide value if you're a big spender at a specific retailer and want to maximize your reward for shopping there.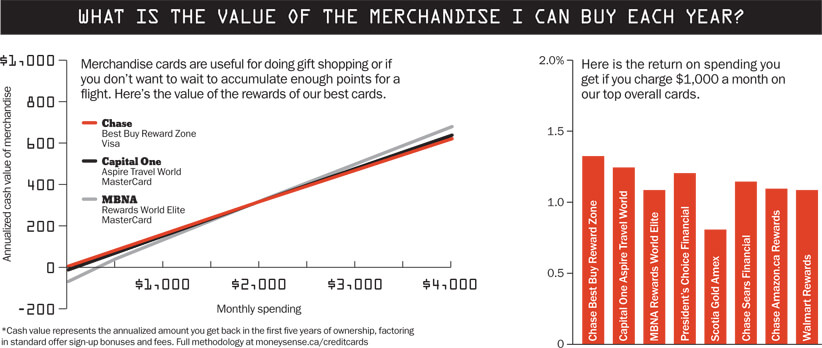 *See the top 8 cards in the Canada's Best Merchandise Cards category.
Which card will get you to your dream destination fastest? Intense competition in this category means there are great options for travellers. These are the best travel cards, determined by factoring in sign-up bonuses and fees over a five-year period.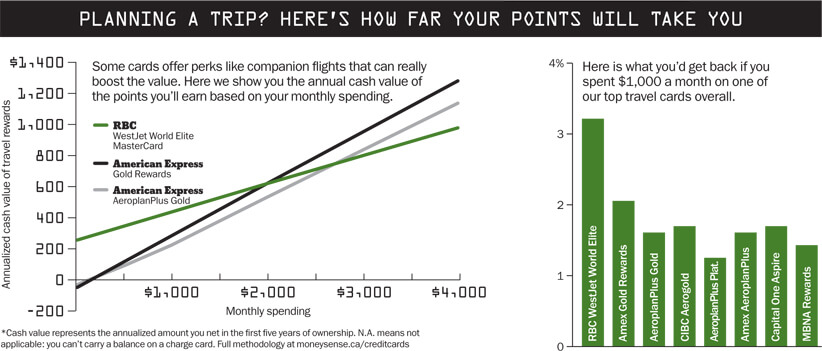 *See the top 8 cards in the Canada's Best Travel Cards category.
Rewards can accumulate quickly if you use the right card to pay for expenses for your business. Low-interest cards can also help you juggle business costs. Here are the best low-rate, cash-back and travel cards for your company.
Top Low-Rate Card: RBC Credit Line for Small Business Visa
Annual Fee: $0
Current Interest Rate: 3.9%
Card Details: Interest rate could be as high as 9.9% depending on credit history. There is no interest-free grace period on this card.
Top Cash-Back Card: Scotiabank Momentum for Business Visa
Annual Fee: $49
Current Interest Rate: 19.99%
Card Details: Earn 3% on the first $50,000 you spend annually on gas, restaurants and office supplies.
Top Travel Card: American Express Business Platinum Card
Annual Fee: $399
Current Interest Rate: n.a.
Card Details: Comes with a 55-day interest-free grace period. No travel restrictions and you can pay for your trip and the taxes with points.
*See the top 12 cards in the Canada's Best Business Cards category.
Don't be lured by card issuers handing out free gear on campus. Opt for a card that truly offers value to students.
Top Low-Rate Card: TD Emerald Visa
Top Reward Card: Scotiabank Scene Visa
*See the top 7 cards in the Canada's Best Student Cards category.
Read our methodology for more on how we determined the best cards.