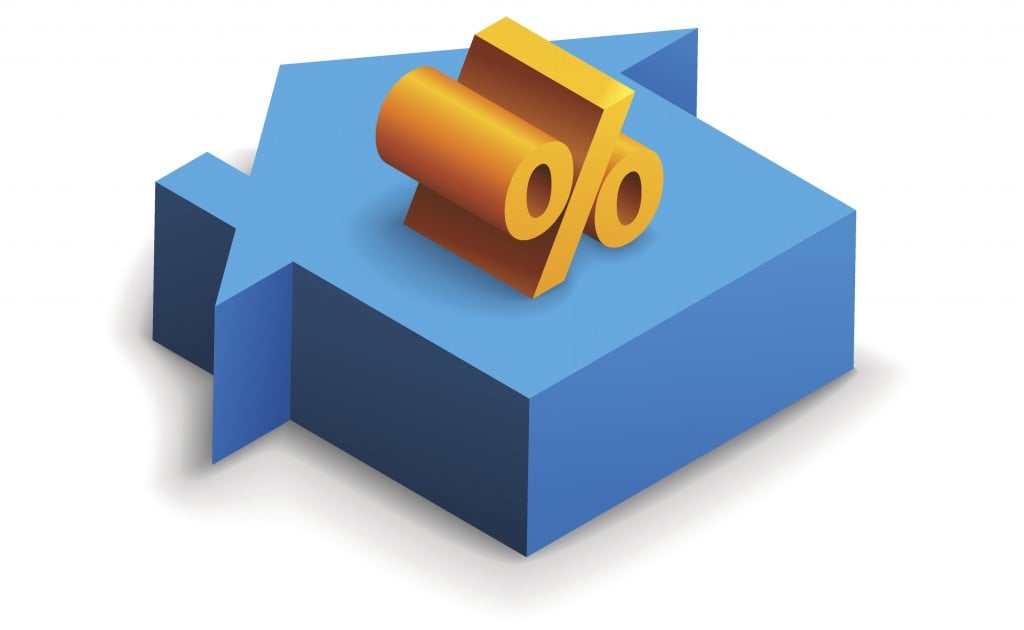 The first half of this year in the housing sector was dominated by talks of affordability, the impact of speculators, talk about bubbles, overheated markets and the expectation of both an interest rate hike and a housing market correction. Yet, with the exception of a tweak here and an outcry there, little changed. Alberta and other resource dependent provinces continue to be battered by low oil prices, while Toronto and Vancouver dominate sales and price headlines. Truth be told, the biggest changes are coming from outside our borders.
But these weren't the predictions made by savvy real estate analysts a mere six months ago.
"Our forecasting models, which pointed to a slowing housing market as the year progressed, included a modest increase in the cost of borrowing," said Phil Soper, president and chief executive officer, Royal LePage. That modest increase—by way of rising overnight rates or an increase in 10 and 5-year bond yields—never occurred. "Economic and social disruptions have rocked the world once again, introducing new risks and making it very likely that the Bank of Canada will leave interest rates as-is for now."
He added that "few industries are as rate sensitive as real estate." This is the proverbial writing on the wall. And with that, Soper is stating what many now believe: We won't see a correction in Canada's housing market. Not even a mild correction. And not even for the super-hot Toronto or Vancouver markets.
Worse: We can expect more price increases. "Our call for 12.4% national price appreciation in the final quarter of this calendar year as compared to the final quarter of last year, is a landmark in Canada. I believe it is the highest value put forward by any serious forecasting agency since the turn of the century," explained Soper.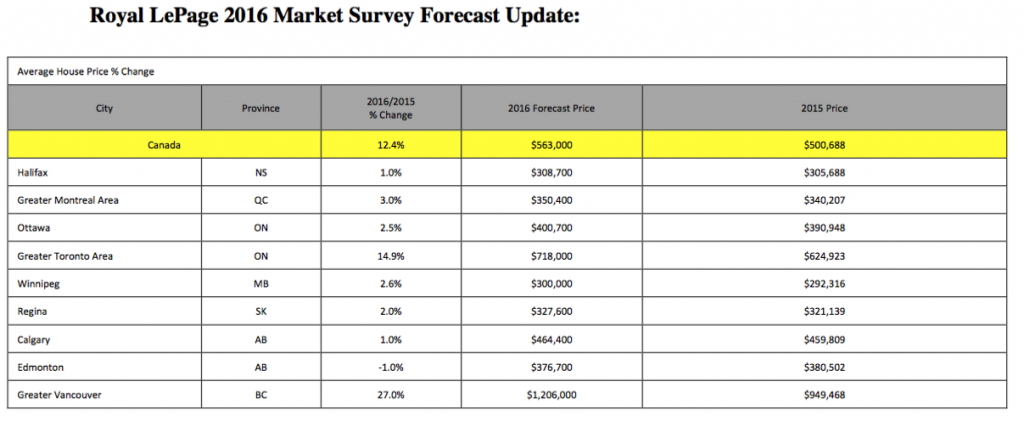 Soper's prediction is based on Royal LePage's "price composite" formula that focuses on typical properties and excludes sales of luxury mansions. By omitting outliers, Royal LePage believes its forecasting model provides a better barometer of trends than average prices, which are skewed upward by sales of high-end properties.
Snapshot of Canada's markets
Canada's real estate market is not "homogeneous" but rather "a mosaic of many different real estate stories," said Soper. The common tie among all these markets are low interest rates, which remain the primary driver of Canada's sustained real estate market. That said, "home price trends are increasingly influenced by local factors, from the lift provided by wealthy immigrants to the drag felt by the depressed energy sector," says Soper.
Interest rates stay the same—so do hot housing prices »
Best Deals in Real Estate 2016 »

Toronto and suburbs show strong price appreciation
According to Royal LePage analysis, Ontario is expected to be one of the fastest growing provinces in 2016, with employment growth running at twice the national average for the remainder of the year. This coupled with very strong U.S. employment growth in June should help stimulate Ontario's export sector (good news as more American businesses will look to Canada for affordable goods and services).
The GTA, the province's largest market, saw notable year-over-year home price appreciation of 10.2% to a median price of $656,365, while home price appreciation in the city of Toronto remained in-line with recent quarters, rising 8.4% to $680,096.
Best Deals in Real Estate 2016: Toronto »
Surrounding suburbs such as Richmond Hill, Whitby and Oshawa continued to outpace home price appreciation in the core, posting year-over-year aggregate home price gains of 21.3%, 17.1% and 16.7%, to $992,632, $547,304 and $409,452, respectively. The price appreciation of suburban home prices shows that families are not opting for condominiums, but instead prefer to move out. "Buyers are still predominantly moving 'out' to surrounding regions, versus 'up', in search of relatively affordable housing options," said Soper.
In the nation's capital home prices remained steady in the second quarter, with the aggregate price of a home in Ottawa increasing 2.3% to a median price of $401,288.
Alberta and Saskatchewan take a dip, while Manitoba shows strength 
The Conference Board of Canada has projected that Alberta's economy will dip 2.0% this year as a result of the sharp pullback in drilling and capital investment in the energy sector, along with the impact of the Fort McMurray fires. Despite economic setbacks, residential real estate prices in the region have not seen the depreciation many onlookers had expected. In the second quarter, the aggregate price of a home in Calgary decreased 1.8% year-over-year to $454,790, while the aggregate home price in Edmonton dipped 1.2% to $377,337.
Best Deals in Real Estate 2016: Calgary »
Best Deals in Real Estate 2016: Edmonton »

Like Alberta, Saskatchewan is being hit by weakness in the energy sector, with more than 9,000 residents having dropped out of the workforce altogether. As a result, home prices in the province's major centres have posted slight declines. According to the Royal LePage National House Price Composite, the aggregate price of a home in Saskatoon slipped 0.2% year-over-year to $370,125, while the aggregate home price in Regina decreased slightly, falling 1.7% to $323,612.
Manitoba has been cited as one of the provinces that will outpace the national economy in 2016 and 2017. This is attributed mainly to its strength in a diverse set of industries such as agriculture, health sciences, transportation, manufacturing and business services, rounding off the edges of some of the would-be effects of the commodities downturn. In Winnipeg, the aggregate price of a home increased by a moderate 2.0% in the second quarter to a median price of $285,358, with the detached two-storey home category posting the highest year-over-year price gain of 3.7% to $314,589.
Best Deals in Real Estate 2016: Winnipeg »
Meteoric rise in British Columbia's mainland markets
B.C.'s economy has outperformed the balance of the country for two years running and is expected to continue doing so into 2017. This economic strength is echoed in the province's housing market.
In the second quarter, Greater Vancouver posted an aggregate year-over-year home price increase of 24.6% to a median price of $1,098,599. During the same period, the city of Vancouver posted a year-over-year gain of 27.5% to $1,330,531, while surrounding areas such as West Vancouver and Richmond posted even higher increases of 29.7% and 28.3% to median prices of $3,093,776 and $972,443, respectively.
8 reasons why Vancouver's real estate market is so crazy »
8 solutions that could help fix Vancouver's real estate problems »

"The quest for affordability in Vancouver seems to be influencing consumer housing type choices," continued Soper. "Alongside skyrocketing prices of single-family homes, we have seen an uptick in the rate of price appreciation for condominiums over 1,000 square feet, when compared to smaller units in this market. This may indicate that families being priced out of the single-family detached home market in Vancouver are looking to condominiums."  
Best Deals in Real Estate 2016: Vancouver »
Slight uptick in Atlantic Provinces
Atlantic Canada saw mixed results in the second quarter, with Fredericton posting the highest year-over-year aggregate home price appreciation at 3.8% to $235,425, with Moncton close behind, rising 3.0% to $193,154. Despite a rosier economic prognosis than its Atlantic neighbours, Halifax home prices remained flat year-over-year in the second quarter at $298,753. St. John's was the only Atlantic city in the Composite to report an aggregate price decline, with the price of a home decreasing 1.5% year-over-year to $336,131 amid a regional economic downturn brought on by the fall in oil prices. Meanwhile, powered by agriculture and tourism, Prince Edward Island's economy is expected to grow slightly quicker than the national average according to most forecasters, although the residential real estate market has remained relatively flat, with the aggregate home price in Charlottetown rising 0.7% year-over-year to $223,087 in the second quarter.
Best Deals in Real Estate 2016: Vancouver »
Strength in Quebec market
Strength in exports to the U.S. is expected to continue to support provincial growth in the remainder of the year in Quebec. Last month Fitch Ratings revised its outlook for the province from "negative" to "stable" citing Quebec's diverse economy as a key strength. An increase in full-time jobs and renewed stability and confidence in Quebec's economy is being reflected in the province's residential housing sector, particularly in the Montreal region. In the second quarter, the aggregate price of a home in the Greater Montreal Area increased by a healthy 3.5% year-over-year to $344,620, while the aggregate price of a home in Montreal Centre rose 4.9% to a median price of $416,953. This is indicative of a transition in the region, which is currently seeing a trend toward a seller's market in the two- storey home segment, and a balanced market for other property types.
Best Deals in Real Estate 2016: Montreal »
Brexit impact should be limited to commercial real estate
The Bank of Canada is stuck. Among other reasons, the BoC can't increase interest rates without putting the nation's anemic economic growth at risk and potentially scaring off foreign investment. One reason for its inability to raise rates is because the global economy is still limping along—now, made worse by U.K.'s June 23 decision to leave the European Union.
How the Bank of Canada rate impacts you: 10 questions answered »
A Brexit win surprised financial markets worldwide and, as a result, the British currency plummeted while the value of equities around the world swung wildly. Now, there's an uncertainty that surrounds the UK and EU as the decoupling process unfolds—a process that could take as long as two years. This continued global economic uncertainty puts pressure on central bankers in Canada and in other countries to keep rates lower for longer. Low interest rates mean more buying demand and continued price increases in certain Canadian real estate markets.
To make matters worse, foreign money that once found safety in U.K.'s real estate market may start sniffing for more predictable, safer political and economic environments. "Some have suggested that Britain's exit from the E.U. will drive more foreign money into the relative safety of Canada's real estate markets," said Soper. "We anticipate the impact, if any, will be seen in the commercial property sector and not in housing markets."
How Brexit could impact Canadian real estate »
How Brexit could mean for Canada »
5 questions you probably have about Brexit »

Despite an increase in foreign buyer activity n the residential markets in Toronto or Vancouver in Q2 2016, according to Royal LePage analysis, this increase will have no significant impact on the overall housing market, explains Soper. A survey of Royal LePage real estate agents working in the Vancouver and Toronto areas shows that a majority of agents believe that the foreign buyer market accounts for less than 10% of either city's housing markets.
Government intervention applauded
While the recent Royal LePage report is a snapshot of where residential real estate markets are at mid-year, Soper took the opportunity to weigh in on recent government activity within the Canadian housing markets.
"We applaud the efforts of all levels of government to better understand Canada's housing market, through a coordinated effort to gather and analyze real estate data," said Soper, who also criticized house-flippers: "We see residential real estate as a long-term investment supporting family life. A home is ill-suited as a buy-and-flip investment. People that engage in this kind of activity are inevitably burned when a market slows."
Not surprisingly, Soper and the Royal LePage brand is not in favour of "heavy-handed use of tax policy in an effort to artificially influence asset values in an open-market economy like ours." Soper suggests that this tactic "is fraught with peril, particularly in a cyclical industry like housing."
B.C. government, Vancouver to team up on vacancy tax »
Who's to blame for high home prices? »
How Budget 2016 affects real estate »
Methodology
Housing values in the House Price Survey are based on the Royal LePage National House Price Composite, produced quarterly through the use of company data in addition to data and analytics from its sister company, Brookfield RPS, the trusted source for residential real estate intelligence and analytics in Canada.  
Ask a Real Estate Expert: Ask our experts your property or real estate question »
---
Read more from Romana King at Home Owner on Facebook »