1. You can rent me by the day. Full planning services can set you back between $3,000 and $10,000. But if you can't afford to have someone do all your dirty work, you still have options, says Toronto wedding planner Rebecca Chan. Don't want to stress out on your big day? Hire a day-of coordinator. They will take care of the execution and any problems that may arise for about $800 to $1,600.
2. Vendors cut me deals. Well-established wedding planners have plenty of connections with vendors and industry professionals, and should be able to get you discounts and rebates on services, says Toronto industry veteran Lynzie Kent. For instance, Kent often recommends a videographer who gives her clients 10% off as a token of appreciation for her business. But watch out if your planner is charging a percentage of the money you spend rather than a flat fee, because they could be getting a kickback for working with certain vendors.
3. Winter weddings rock. Summer weddings are madly popular but if you're looking to save a couple thousand dollars in venue costs, winter and spring—really any time from November to April—are the way to go. No matter what the season, though, getting married on a Friday or Sunday will be slightly cheaper than on a Saturday, says Chan.
4. The venue makes me charge you more. Some event halls may charge corporate rates for in-house services like an A/V team, which can be significantly higher than what you'd find externally. If that's the case, you'd be better off asking a DJ to bring in a sound system at half the price.
5. Skimp on the flowers. A good planner knows how to make the most of your budget. Chan, for instance, likes flower arrangements to be versatile. There's no reason you can't also use the reception centerpiece florals to create a backdrop for the altar or to line the aisle during the wedding, she says. "That way your flowers are working double duty."
This article was originally published in June 2016
---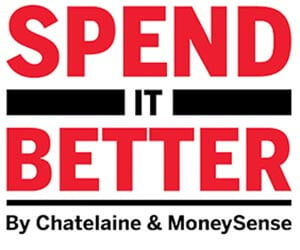 This post is part of Spend It Better, a personal finance collaboration between Chatelaine and MoneySense about how to get the most for your money. You can find out more right here.
[bc_video video_id="6023929391001″ account_id="6015698167001″ player_id="lYro6suIR"]