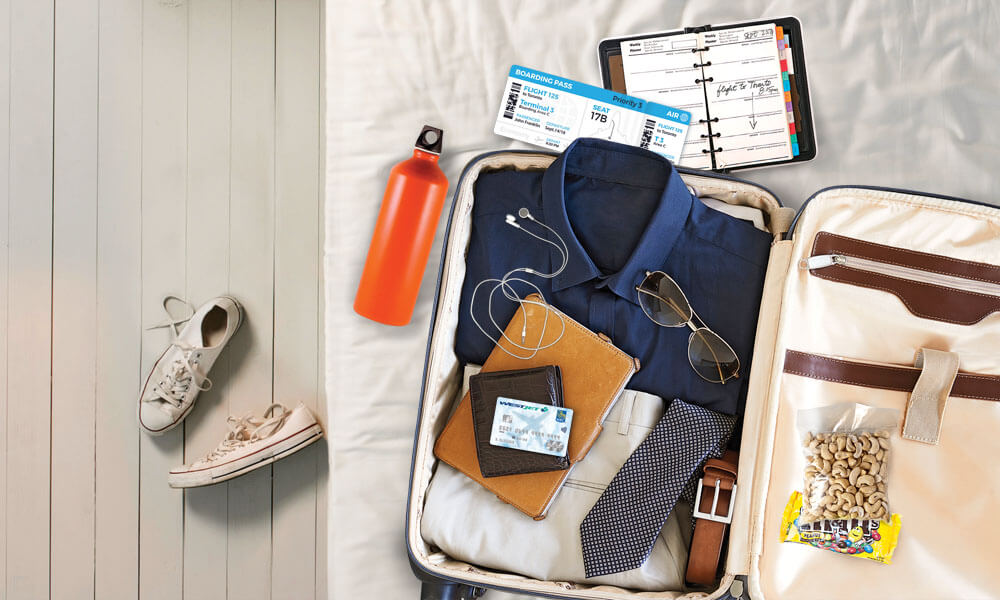 Believe it or not, airfares are dropping. In 2015, the average price of a Canadian domestic flight slid from $188 to $176. It just doesn't feel that way because the fees that airlines charge—for everything from baggage to blankets to power cables—continue to skyrocket. Here are five ways to avoid paying those pesky extras and enjoy cheaper flights.
1. Keep calm and carry-on
Want to avoid the dreaded checked baggage fee and save yourself at least $25 on a North American flight? Most airlines allow passengers one piece of carry-on luggage as well as a small personal item. CityNews producer and budget travel expert Barry Choi uses zippered packing cubes to help maximize every inch of space in his carry-on. He stores heavy items like laptops and tablets in his backpack, which qualifies as a personal item if it will fit under the seat. There's also no rule against layering up in the cabin. The added warmth of a jacket or scarf means you won't have to pay for a blanket either.
2. Get with the program
Can't lighten the load? You can bypass baggage fees by booking your flight with the airline's preferred credit card. For example, if you pay for a flight with your WestJet RBC MasterCard you and up to eight passengers on the same reservation each check in one bag for free. Both TD Aeroplan and CIBC Aerogold Visas waive the first baggage fee, plus you get priority check-in and boarding on Air Canada flights. The catch? You have to purchase the ticket using your Aeroplan flight rewards (for a flight from Toronto to Halifax, that adds up to 25,000 miles).
3. Pack extra rations
Mostly gone are the days of complimentary meals on short-haul flights. But rather than pay $8 for a fancy box of Lunchables, stock up on snacks from home, and bring an empty water bottle—which you can fill at the fountain once you're past security. If you need to buy food in the terminal, Choi recommends making a beeline for fast food chains like Tim Hortons where prices aren't quite as inflated. During the flight, ask for extra pretzels or the whole can of pop. If there's more than enough to go around, flight attendants will happily oblige.
4. Fly the less busy skies
Seat selection fees on domestic flights can cost anywhere from $5 to $59. And, unfortunately, a little extra legroom or added distance between your seat and the bathroom is a luxury you'll have to pay for. However, if you book your flight for times when traffic is typically light—Tuesdays or Wednesdays, earlier in the morning or later at nights—you'll not only get a cheaper fare, you're more likely to find an empty seat beside you. Choi also pounces on the online check-in system exactly 24 hours before departure to see if he can grab a preferred seat.
5. Entertain yourself
Most airlines offer free seat-back entertainment, but some are now charging for tablet rentals, Internet access, earbuds and even charging cables. You should not have to pay for these things, if you're prepared. Pack reading materials and pre-download your favourite movies, audiobooks and podcasts before boarding. Whatever you do, says Choi, "don't forget your headphones."
---