Knock-off: Tivoli clock radio
Tivoli's whimsy and function rule the retro clock radio market. But you can wake up to a cheaper, high-quality alternative.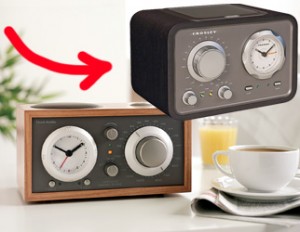 Most of us would rather curl up in the duvet than brave the morning rush hour, but the warm design and inviting sound quality of today's retro clock radios can help you ease into the day. With wood casing, large analog tuning dials and no digital display, these nostalgic radios are less retro replicas than authentic examples of form following function.
For $350, Tivoli's Model Three delivers well-balanced and clear audio, a 5:1 precision tuning dial with LED indicator, alarm with radio or tone option, snooze button, and an auxiliary input for your iPod. The top-mounted speaker bounces sound waves off the wall and ceiling, providing a surround-sound effect.
For a more affordable alternative without sacrificing sound quality, consider the Duet from Crosley Radio for $150. Crosley has been building low-cost radios that rival pricier models since the 1920s; that tradition continues with the Duet. While it boasts all the same features of the Tivoli, its slightly more ornamented design is reminiscent of the dashboard of a vintage car. This is no coincidence since Crosley invented the world's first car radio. With its rich heritage and dedication to quality, the Duet will have you waking up with a smile. Now, if only it would make coffee.—Ronit Novak