Maclean's year-end interview with Prime Minister Trudeau will take place in a live town hall broadcast to Canadians.
"The last time Justin Trudeau visited Maclean's, five months ago, his party was in third place in the polls and I asked all the questions," says Paul Wells, Maclean's political editor. "Now he's the Prime Minister and we're inviting Canadians to ask their own questions, on the issues they're concerned about."
The Maclean's Town Hall with Prime Minister Justin Trudeau will be held at Ottawa's National Arts Centre on Wednesday, Dec. 16 in front of a live audience.
The one-hour event will begin with questions for the PM from journalists Paul Wells (Maclean's), Rachel Giese (Chatelaine) and Alec Castonguay (L'actualité). Then the Prime Minister will take questions from a live studio audience, from Facebook and from Twitter. See details below for how to submit a question.
Neither the Prime Minister nor his staff will see any of the questions in advance.
The town hall will be carried live, commercial free, on Macleans.ca, City, OMNI 1 in Italian, OMNI 2 in Mandarin, Rogers TV (in Ontario, New Brunswick and Newfoundland), CPAC, and CPAC.ca at 2 p.m. ET.
Later that evening, City, OMNI 1 in Italian, OMNI 2 in Mandarin, Rogers TV and CPAC will broadcast an encore presentation of the Town Hall, commercial free, at 7 p.m. ET/PT (check local listings).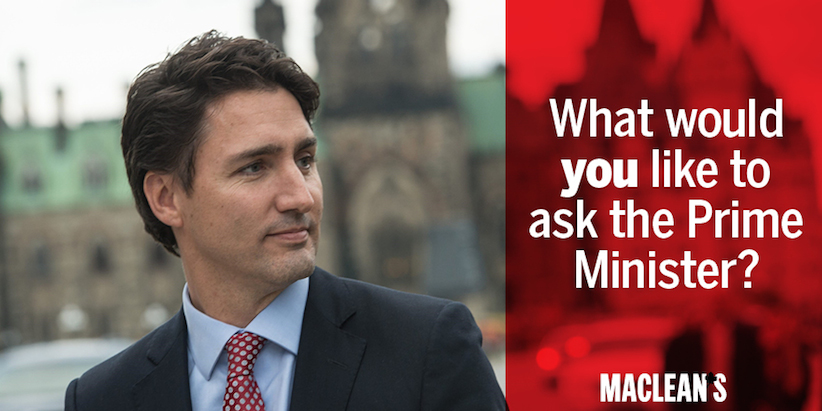 Have a question for Prime Minister Justin Trudeau?
Leave your question in the Google form below, send it on Twitter using the hashtag #mactownhall, or on the Maclean's Facebook page.