The CMHC is raising mortgage insurance premiums as of today.
Luckily, if you already have a mortgage or if you applied for one before March 17, these changes won't affect you. If you're planning to buy a home with a down payment of less than 20%, however, be aware that you'll have to pay a little more every month—which adds up to quite a lot over a typical 25-year amortization period.
The premium rates for new mortgage loan applications are as follows:
| | | |
| --- | --- | --- |
| Down payment % | Standard premium (current) | Standard premium (before March 17) |
| 5% to 9.99% | 4% | 3.6% |
| 10% to 14.99% | 3.1% | 2.4% |
| 15% to 19.99% | 2.8% | 1.8% |
Depending on where you live in the country and the price of your home, you could pay anywhere between $2 and $17 extra a month in CMHC premiums. On average, Canadians could pay an extra $2,600 over the course of 25 years.
RateHub has crunched the numbers to show Canadians exactly how much more they can expect to pay monthly across the country. See their helpful infographic below.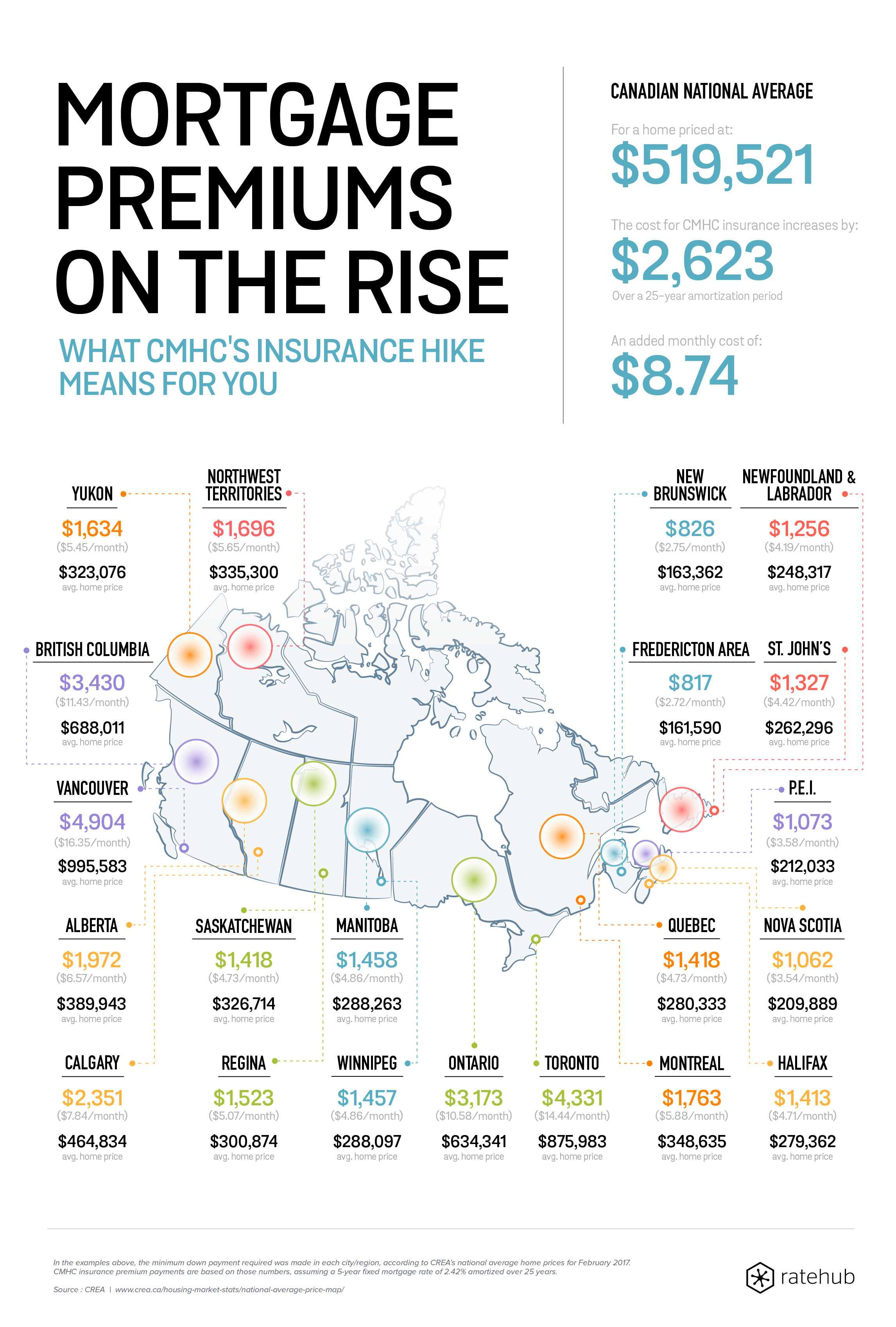 These calculations assume that the minimum down payment required was made in every city or province/territory based on average home prices as of February 2017. The premium payment increases are based on a five-year fixed-rate mortgage of 2.42%—the best mortgage rate available on March 16—with a 25-year amortization.
RateHub.ca is a website that compares mortgage rates, credit cards, high-interest savings accounts, chequing accounts, and insurance with the goal to empower Canadians to search smarter and save money.
---
Read more: