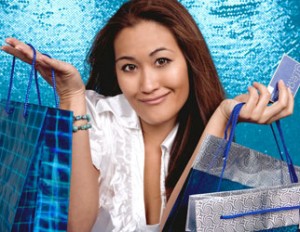 It's amazing how much money we spend that we really don't have to.
Sometimes we're in a rush. Sometimes we're under a misconception. Sometimes we're just bone lazy. If you follow these three rules, you can save even as you shop:
1. Don't buy new if you can buy used
So obvious, right? From cars to clothes, second hand means huge savings. Get over the, "Ewww, I can't put my baby in some other kid's clothes" and watch your clothing costs drop by 60% or more. At the rate kids grow what you're buying second hand is almost new anyway.
As for toys, I once purchased about $300 worth of Lego in a bin for $30 at a garage sale. I took it home and dumped it in the washing machine with some soap and bleach. It outlasted my kids and I passed the mountain of building pieces on to another set of kids. (BTW, when you're done with whatever you bought, take it to a second hand store and sell it to finance your next second-hand purchase.)
2. Don't overlook the generic version
Brand names have power: the power to make you spend more money than you need to. Yes, there are some brands that are actually better. I won't swap my Joy dish soap for any other. If it's good enough to save oil-slathered wildlife, it's good enough for me. I've even used it to get a grease stain out of my clothes.
But there are some things you should always buy generic because it just makes sense. I give you bleach and headache remedies and salt and gas, among thousands of other products.
3. Don't buy alone when you can share
How often do you use your lawn-mower, snow-blower, carpet steam-cleaner? If you shared these things with a bunch of friends or family, they'd get used more often and sharing would save you a pile of money because you would have to own everything yourself. Ditto buying things in bulk; head to a store where you can buy your toilet paper in packages of 30 and split the deal with two friends. You'll not only save money, you'll cut down on the amount of time you spend shopping.