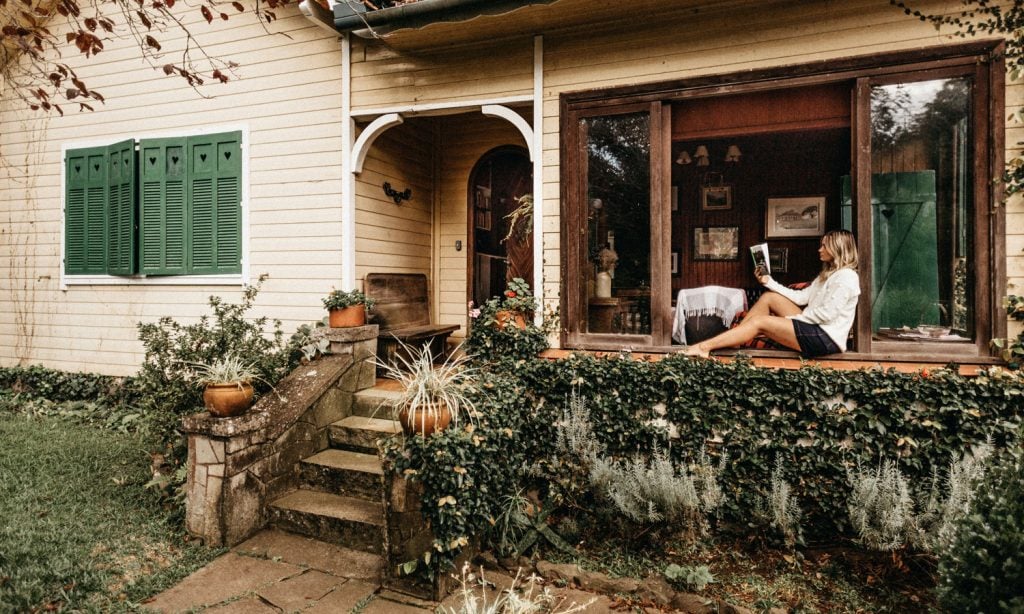 Before the pandemic, I had affection for my shoebox apartment in Toronto's west end. Located in a bustling, hip neighbourhood, it afforded me close proximity to my office, friends, cafes, fitness studios and Instagram-worthy parks. Financially it was a win, too. I was able to split my (already low) rent with a friend thanks to a second bedroom. We each paid less than $1,000 per month for the space, including utilities, a number that would make many Torontonians burn with frugal envy. 
Then the pandemic hit. Home around the clock, I started noticing the constant noise pollution from the street below. It affected my sleep and my stress levels. The high-traffic elevators were a constant source of (justified) germophobia. Kids that would normally be in school ran up and down the hallway. All day. The attractive things about my hood (restaurants, friends, concerts) were all moot points now, too. And when my roommate was laid off and moved back to her hometown, my apartment was no longer a financial win. The idea of paying "double" my rent for a living space I already resented was untenable. Nearly a year after the pandemic began, I was wondering what I was still doing there and put in my two-months' notice to find a new, hopefully better, place to live.
Turns out, I wasn't the only person moving for these pandemic-specific reasons. Alessia and Lorena Sabatino, sisters who work as a team of sales representatives at Royal LePage Signature Realty in Toronto, say the pandemic has introduced new reasons for people to rethink their living situations. "A client of mine was living in a condo and working from home because of the pandemic," says Alessia. "There was a GO train right behind the condo she would hear all the time. And she chose to cut her lease short because of it." Another client in a basement apartment found that once she began working from home, she couldn't stand the constant noise of the tenants above or the lack of natural light, and took the leap to move.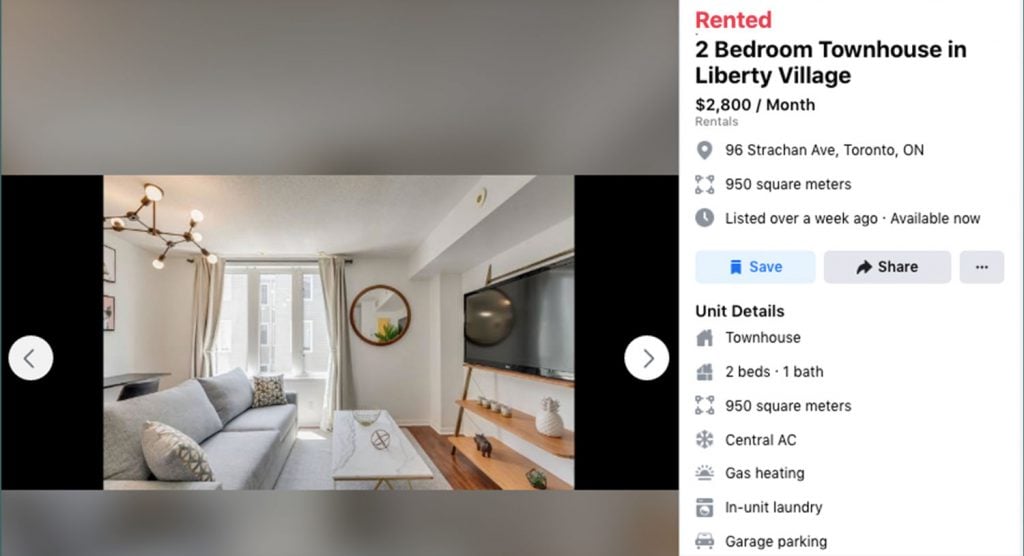 Is moving during COVID the secret to snagging a great deal?
While this wasn't my main motivation to move, I knew people were leaving the city in droves, leading to low rental prices due to a simple excess of supply and a lack of demand. According to a report from Statistics Canada, from July 1, 2019, to July 1, 2020, Toronto lost 50,375 residents who moved to surrounding cities. And Montreal saw 24,880 people leave. The low demand translated to cheaper rents, especially in the condo market. According to the April 2021 Rental Report by the Toronto Regional Real Estate Board, the average rent for a one-bedroom condo was down to $1,820, compared to $2,187 in the first quarter of 2020. Over that same time period, the average two-bedroom condo rent was down by 13% to $2,447, compared to $2,812. However, year-over-year, average rent prices did increase in Toronto, according to the CMHC 2020 Rental Report. The average rent still increased by 4.7% to $1,523. In Montreal, average rent grew by 4.2% to $891. Vancouver's average rent also grew by 2% to $1,508, although that growth was slower than anticipated. In Edmonton, the vacancies grew to a whopping 7.2% and rent only increased by 0.8% and in Calgary, 6.6 % and the average cost of rent remained unchanged.
The Toronto rent costs were in line with what I saw during my own research for a new place to live. But most of the places I considered were priced somewhere around the middle. I also saw incentives offered by landlords, especially in the units downtown, like one month's free rent, free utilities (hello, free internet!) and even cash incentives, like a $500 move-in bonus. The news reported that the uptick in rental vacancies was due to people no longer needing to be "downtown," as condo renters were working remotely, university and college renters were attending classes online and many service industry workers lost their jobs.
Other rental markets were affected, too. The rental market vacancy rate in our big cities grew from 2% in 2019 to 3.2% in 2020, and vacancy rates for Toronto, Montreal and Vancouver (Canada's three biggest metropolitan areas) increased to 3.4%, 2.7%, and 2.6% respectively, according to the same CMHC report.
"The renters' market at the beginning of the pandemic had opportunities for good deals, especially in the condo market," says Lorena. "Now, we're not seeing too many incentives." As I combed through sites like Zumper.com, Rentals.ca, ViewIt.ca, TorontoRentals.ca and Padmapper.com, I noticed that nothing much had drastically changed since before the pandemic.
It was still difficult to find good apartments 
Keeping abreast of the ever-changing market was a part-time job. I set up email notifications for new properties on the above sites. And I even searched Craigslist.org. I had countless dead-end conversations with real estate agents and landlords and would end my nights scrolling through listings on my phone. 
After a month of searching, I had no real leads. I'd take time out of my day to view in person a place that looked promising online–only to find out that it was smaller than pictured, dingy or had another flaw, like a bedroom barely big enough to fit a twin bed. With two-month's notice already submitted to my building's management, it began setting in that this could be the worst possible time for me to move. 
However, hiring a real estate agent turned the process around for me. I connected with one about a place I was interested in and she had asked me a handful of questions about my work, my rental history and my credit score, and then she offered to help me find a place. The shocker for me was that you don't have to pay the real estate agent (unless otherwise stated in a commission agreement). Typically, the landlord pays the real estate agent's brokerage (50% to 100% of one month's rent), and the listing agent gets a commission when the property is successfully rented. It's more common to use a real estate agent to find a rental in urban centres than say the suburbs, but the option is worth seeking out.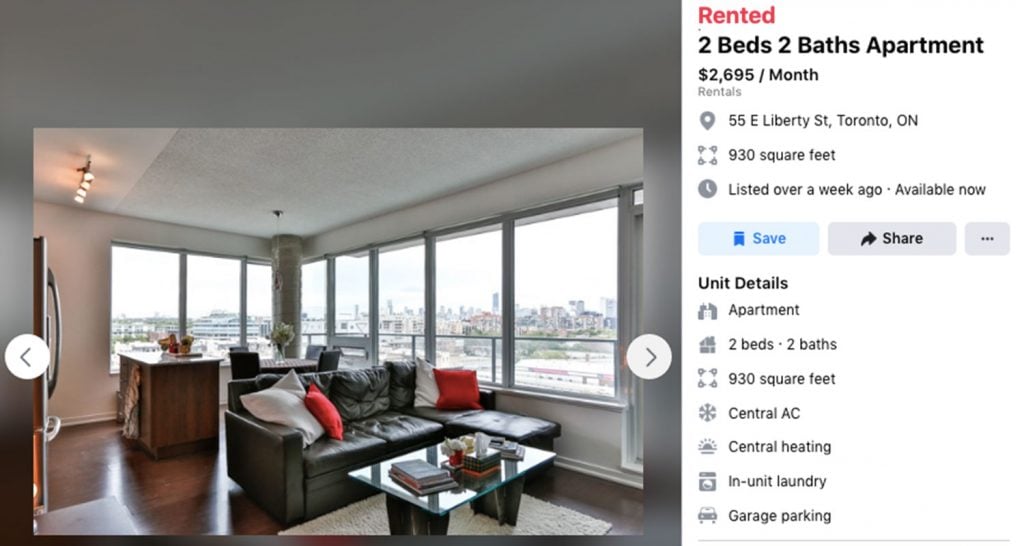 Working with a real estate agent lightened the load
My real estate agent asked me questions to find out exactly what I wanted.
What areas do you like? 

How many bedrooms and bathrooms do you need?

Do you want a new property, or is an older one OK?

Does the floor number matter?  
She narrowed down my options. I did veto units on higher floors, because I have a dog that needs to be walked multiple times a day. She didn't waste time showing me places she knew I wouldn't seriously consider. Then, she set up multiple appointments on the same day to make the best use of my time. I was no longer taking an entire afternoon to travel to see one potentially crummy property. It was like I had a matchmaker while, before, it was like I was aimlessly swiping through Tinder.
I lucked out with her. But I do think it's important to find a real estate agent you feel comfortable with and who is responsive. You'll be spending time with this person, trusting their opinion and having them potentially advocate for you in a negotiation for your dream place.
Beware of rental scams
Before COVID, a potential landlord making the excuse not to meet you or not to show the property before asking for payment would be an obvious red flag. But the pandemic restrictions have created new opportunities for rental scams. In fact, Toronto Police confirmed that pandemic rental scams are on the rise.
With this in mind, I proceeded with caution. When one landlord wanted my name, record of employment and copy of my ID before he would schedule a viewing with me, I told him I was not comfortable giving him that personal information and decided to skip that viewing. 
Working with a real estate agent can safeguard you from being the victim of a pandemic rental scam, too. Since a real estate agent deals with landlords and prospective renters full-time, they're better at spotting issues.
"If a place seems too good to be true, it probably is," says Lorena. She recommends ensuring you get something in return whenever handing over personal info or a bank draft. "Get a photo ID or information about where they live." Make sure you use an Ontario standard lease agreement too, and keep documentation of the transaction. 
At showings, be safe and keep expectations low
Personally, I think it's essential to view a place in person before signing a rental contract, even if virtual showings are an option. You can always do both, using the virtual showing to narrow down the prospects first.
A place that looks perfect online can still disappoint in real life. I saw a condo with two bedrooms plus a den ($2,600 per month) on the Toronto waterfront and realized just how generous the rental market is with the term "den" since there was barely space for a small IKEA desk. Another condo ($2,500 per month) advertised a "den" that was simply a hallway, just about one foot deeper than a hallway would be. And, like I mentioned before, a wide-angle lens can make pantry-sized spaces look like master suites online.
Even with the help of a real estate agent, I continued to take an active approach to finding a new living space—and it paid off. I found a freshly-listed place on Rentals.ca. I emailed my real estate agent immediately, and she set up the appointment and another three viewings of similar units in the area I hadn't even come across.
We found the one.
The pandemic has made it more competitive for renters, too
"Now, more than ever, landlords are looking for A-plus-plus tenants," says Alessia. "Because of pandemic job losses, not only are they looking for employment and credit reports, they're really diving deeper into tenants' history and being thorough with the application." This means landlords are taking the time to call all listed references, instead of just one or two, calling employers and going above and beyond to do due diligence.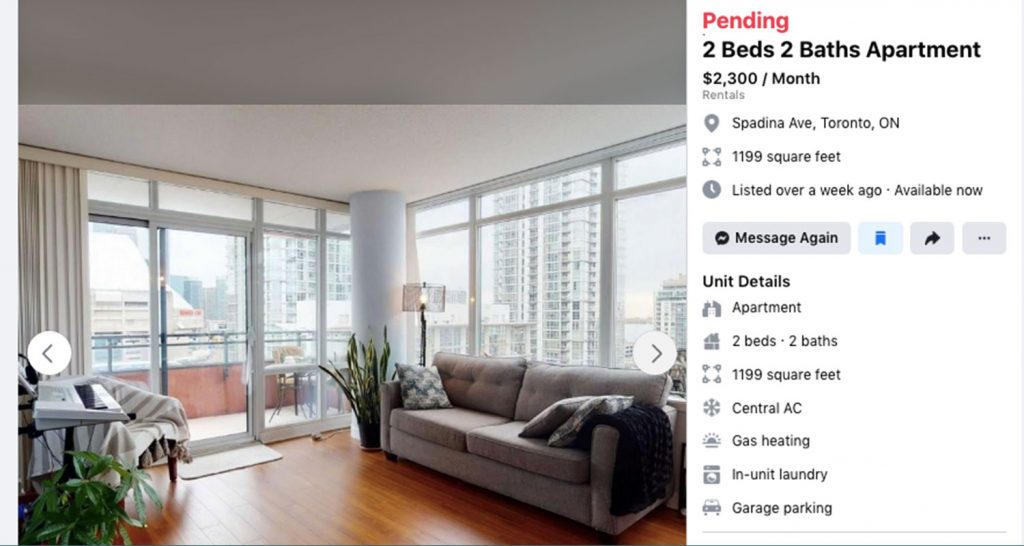 Beat out other renters: Have an offer package ready 
I had a competitive edge in getting my new place because I had my application documents already prepared. You can either print this out or keep a digital file on your desktop to send off at a moment's notice. Be prepared with the following:
Rental application

Credit reports for all parties on the lease, which you can get from Equifax or TransUnion

Letters of employment

Copy of government identification, like a driver's license or passport

Personal and work references
The hidden costs of moving 
Once the landlord accepted my offer, I started prepping for phase two: The move.
This came with added costs. 
For me, it meant buying moving boxes and renting a U-Haul truck. I enlisted the help of family members (who were luckily already in my bubble) and did the move over the course of two days. The truck rental cost me $90 a day, and I spent $50 on boxes, for about $230 total. However, if you're short on time or don't have help in your bubble, and need to go with a moving company, it can range closer to $400 for four hours (but you'll likely be done faster).
Another cost? All. The. Little. Things. 
There were set-up fees for utilities, and it was a leap considering my old apartment had included water and electricity (goodbye, long showers). I had to transfer my renters insurance. Mail forwarding was another unexpected expense, costing just shy of $87 for the year. That's the cost if you're moving within the province, and about $57 for four months. (It's $71 for the same timeframe if you're moving to another province.)
Also, some of the furniture from my old place didn't work in the new apartment. My bed frame wouldn't fit through my doorway, so I had to buy a new bed. I got a new entertainment console, since my old one looked too small in the new space. And I have to factor in the amount of money spent on takeout for the week of moving (roughly $100), as it's hard to cook when you can't find your pots and you are completely exhausted. All in all, these expenses totalled an additional $1,400.
I was able to make some money on items I purged prior to moving. I sold my air-fryer since I now have a convection oven. I now no longer pay $20 a month for laundry, since I have a washer and dryer in my unit. Parking is free at my new place, whereas it cost $140 a month at my other place. And I now have free parking for visitors, too.
Would I do it all over again?
I would. And I would use a real estate agent again. They help you negotiate with the landlord or property manager. In many cases, rent is negotiable, with landlords agreeing to lower rates if they see the tenant as a good fit. Or, you can offer to pay more rent, or an extra deposit, to give you an edge on a great place. In our case, the landlord didn't want a tenant with a dog, but the real estate agent managed to negotiate in my favour and get us the place for the listing price. It was a good deal, so I didn't underbid.
For me, moving during the pandemic was less about saving money and more about preserving my sanity and safety. I never expected to pay less than I was paying before (my old apartment was a serious steal). However, getting a place in a quieter area, with amenities like a dishwasher, washer and dryer and home office space, with less interaction with neighbours and no elevator was well worth the small extra expense.