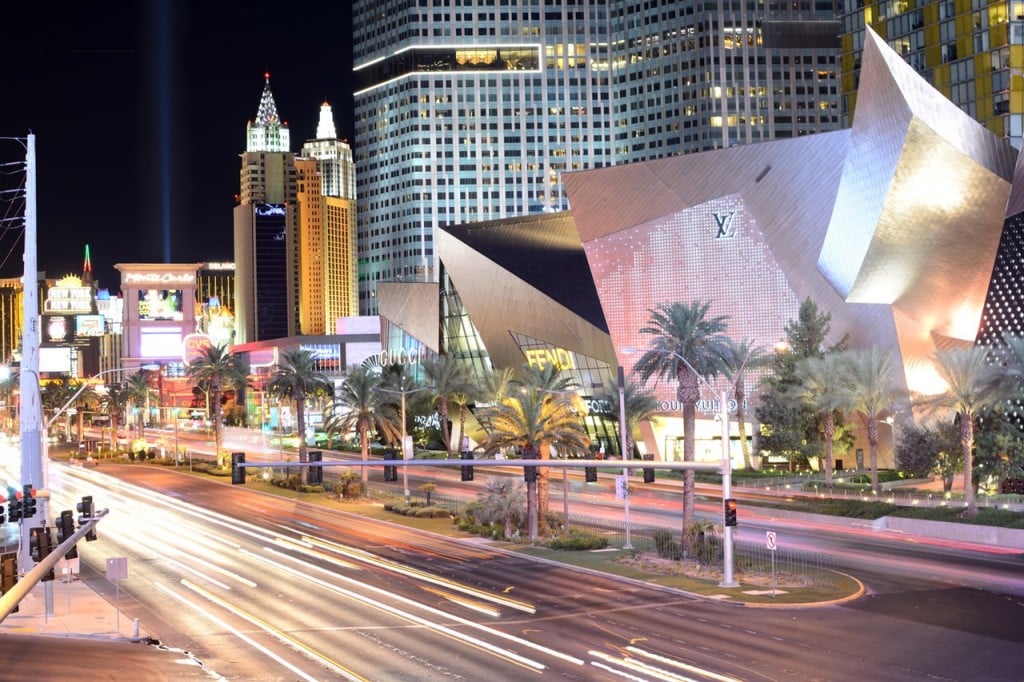 Forget what you know, or think you know of Las Vegas. The city has changed dramatically over the years. With the food and entertainment industry significantly ahead of gambling, visitors heading to Las Vegas know they're in for a treat.
The city welcomed 42.9 million visitors in 2016 and it's already on pace to surpass that number for 2017. Whether you're looking for romance, adventure, relaxation, or something else, Las Vegas has it all. Nicknamed the Entertainment Capital of the World, you won't have any problems finding the ultimate experience here, and we've got some tips to help you cut back on your expenses.
Figuring out your flights
The good thing about Las Vegas is that it's never been easier to travel there for Canadians. WestJet and Air Canada Rouge provide 115 flights from Canada to Las Vegas every week. There are also multiple American airlines that make daily flights from various Canadian cities. If you're a fan of Porter, they also have flights available, but it requires a U.S. connection via Jet Blue.
Unfortunately, due to the number of visitors that Las Vegas sees, there really is no low season where you can take advantage of cheaper flights and hotels. That being said, you'll likely see lower prices if you fly during the middle of the week. Check out my guide on how to find cheap flights for general tips on how to save on airfare.
I've noticed that there can be significant savings when you book your flights and hotels as a package. Take a look at WestJet Vacations and Air Canada Vacations to see what's available.
Saving on accommodations
If booking a vacation package doesn't work out for you, there are still some ways to save on accommodations if you're flexible.
Start by narrowing down your hotel choices. This is no easy task considering how many hotels are available in Las Vegas, but it's still a good idea to have a top five list in mind. Now that you have an idea of where you want to stay, sign up for their mailing lists since most hotels offer exclusive discounts that are only shared with people who have subscribed.
Like any city, the location of your hotel makes a big difference in price. Downtown hotels offer incredible value since the area has the old Las Vegas feel and is just a 25-minute drive from the strip. During the week, you can find rooms around CA$50 at the El Cortez, Oasis at Gold Spike, Downtown Grand, The D, Golden Nugget, and much more.
If you prefer to stay on the strip, don't worry, there are some fantastic budget options available to you. Bally's, New York-New York Hotel & Casino, Luxor, Harrah's, and the Flamingo are just some of the cheaper options.
Even some of the newer and more popular hotels can still be budget friendly. The LINQ Hotel and Casino is geared towards millennials and has rooms with bunk beds so guests can have their own bed while splitting costs. It's also pretty normal for people to try to fit in as many people as possible into a room to save money, so don't feel too weird about it if you're considering this as an option.
Deciding on your attractions
Las Vegas has some of the best shows in the world so you could end up spending a small fortune on tickets. The good thing is that three of Cirque Du Soleil's top shows offer some behind the scene tours for free. "KÀ" has open houses twice per day every Tuesday and Saturday. Rehearsals of "Mystère" happen Mondays at 4:00 p.m. where guests can then purchase discounted tickets from $49.50. There are also open rehearsals for "The Beatles: LOVE" on Fridays from 4:15 – 4:45 p.m.
The big-name acts could cost you a few hundred dollars whereas as some of the lesser known performers might set you back just $50. Regardless of what you decide, ordering tickets online in advance will usually save you a little bit of money.
Now if you're on a tight budget, there are plenty of free attractions including the Welcome to Fabulous Las Vegas Sign, the Bellagio Fountains, public art (downtown and inside various hotels), free concerts at the Fremont Street Experience (such as Good Charlotte, Collective Soul, Theory of a Deadman). Don't forget, many hotels have a theme so part of the fun is checking them all out.
Both Uber and Lyft are available and are significantly cheaper than using a taxi. Alternatively, you could buy a 24-hour, three-day, or five-day bus pass for $8, $20, and $32 respectively. By using either option, you can get to all the attractions without renting a car.
How to save money on food
Las Vegas has some of the best restaurants in the world so I recommend having at least one meal at a celebrity chef-owned spot. It's also worth splurging once on a buffet for the experience.
If you want to keep things relatively inexpensive, you could go to famous U.S. burger chains like In-N-Out Burger and Shake Shack which are both on the strip. Carmine's restaurant may seem expensive with entrées averaging about US$32 but one dish could honestly feed a family of four! One lesser-known gem is Secret Pizza at The Cosmopolitan of Las Vegas which offers cheap and tasty slices.
Generally speaking, you'll find cheaper buffets and dinner options downtown along the Fremont Street Experience such as surf and turf for $12.99. But for one of the best and cheapest meals, look for taco stands that can be found throughout the city. Tacos el Gordo and Los Antojos come highly recommended.
The final word
Las Vegas is by no means a cheap destination, but that doesn't mean it's not worth a trip. The city is always evolving with new hotels, restaurants, and shows coming all the time. Hopefully, the above tips will help you save a bit of money when you plan your next trip to Sin City.
Barry Choi is a personal finance and budget travel expert at Moneywehave.com. You can follow him on Twitter:@barrychoi 
MORE ABOUT TRAVEL: