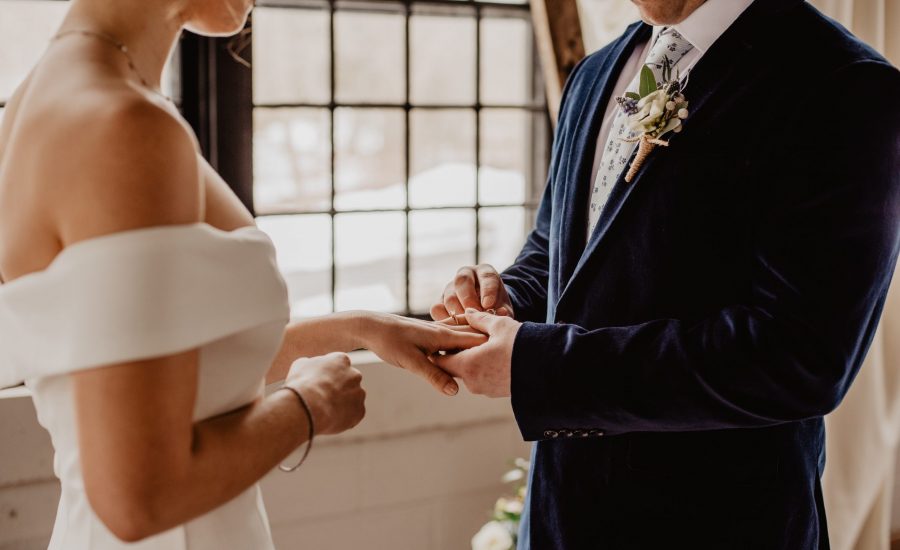 Weddings can be expensive, but so can many of the things that come after a wedding—like a home purchase, starting a family and saving for retirement. And so money is an important relationship issue even before a couple ties the knot. 
Both weddings and home purchases can both cause people to think or spend irrationally—especially amid the rush to "get in the real estate market" while mortgage rates are at historically low levels. How can a couple decide which is the better use of their hard-earned savings?
Let's start with weddings. The costs associated with their Big Day can range drastically from couple to couple, depending on their wedding plans and the size of their family. The dollars differ widely among industry estimates, as well. According to Wedding Wire's 2019 Global Wedding Report, the average Canadian wedding costs US$21,900—that is, $29,059 Canadian at the average 2019 exchange rate. Meanwhile, the consumer data company Statista pegged the average Canadian wedding at a much higher $42,401, back in 2017. 
Given the national average home price in February 2021 of $678,091, a 5% minimum down payment would be $33,905—or about the average cost of a wedding. 
This begs the question: are young people making their marriages more difficult by making their wedding budgets too high? Are they trading in a home down payment for a half-day party with their friends and family?
The rational choice for a couple in the long term is probably to forgo an expensive wedding. But many brides, grooms and their families celebrate traditional wedding ceremonies and receptions and feel the desire or the pressure to do so.
COVID-19 precautions have prevented many couples from throwing big weddings. This is bad on just about every level, but a modest wedding could be good financially for a couple. 
If a 30-year-old couple invests $35,000 at a 5% annual rate of return, it could turn into over $193,000 by retirement at age 65. Granted, $193,000 would not buy them nearly as much in the future due to a rising cost of living over time, but it is the same as about $97,000 in today's dollars, assuming 2% annual inflation. That is the equivalent of about $140,000 of salary net of tax (varies by province). Could forgoing a wedding allow you to retire a year or two earlier as a result? Absolutely. It is romantic to elope at city hall? Absolutely not. 
Money stress is commonly cited as one of, if not the primary point of contention, among spouses. And disagreement about the cost of a wedding, whether it is verbalized or not, could set the stage for a marriage. 
I am not saying you should forgo a wedding; I am just saying a couple should consider what they could be giving up by having a lavish, over-the-top celebration, or how they could be making their future lives together harder by overspending on a wedding. 
Beyond budgeting for a wedding, some of the other things that an engaged couple should be talking about include:
If their bank accounts will not be merged, who is paying for what, and how they will contribute to their shared expenses? 

What is their monthly budget—and whether it is a set figure for monthly spending, or a target saving rate that happens first with the freedom to spend the rest. 

What is each partner's comfort level with debt, including whether to invest in RRSPs and TFSAs or pay down their mortgage or other debt instead. 

What is each partner's investment risk tolerance, and whether they will invest their money together or separately. 

How much disability insurance coverage do they need? Young people are frequently uninsured or underinsured for the risk of disability. Someone in their 20s or 30s is more likely to become disabled than to die, making disability insurance or other living benefits like critical illness insurance arguably more important than life insurance.

What are the goals for their family, including travel plans, having children, children's education and, eventually, retirement. A bank will give the same mortgage approval to two couples with the same incomes and other financial ratios. The bank will not ask about how many vacations they plan to take each year, how many kids they are hoping to have, whether they plan to send their kids to private school, or if they hope to retire at 55—which means those two couples may have a very different financial experience based on their choices, even though their incomes and debt levels are the same.
There are plenty of other considerations ranging from tax planning (whose RRSP to contribute to), estate planning (wills and powers of attorney), etc., but financial planning as a couple—like marriage—is a marathon, not a sprint. 
Which brings us back to the question: Which is the "better" investment—a wedding or a down payment on a home? Look, sometimes the heart wants what it wants. Many young couples feel pressure or just the desire to have the wedding they have always dreamed of having. It is important, however, to consider how much to budget for a wedding, and the resulting impact on the years to come.
Jason Heath is a fee-only, advice-only Certified Financial Planner (CFP) at Objective Financial Partners Inc. in Toronto. He does not sell any financial products whatsoever.