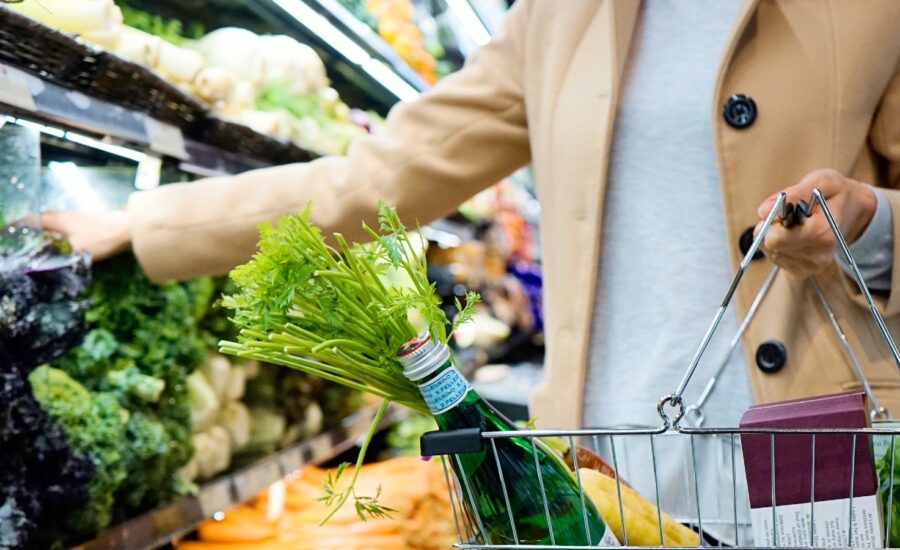 If you're looking for a card that can help you save on high grocery costs, without a hefty annual fee, look no further. A huge selling feature for the BMO CashBack Mastercard is that it gives you 3% cash back on groceries—possibly the highest in Canada for a no-fee card. You'll also earn 1% cash back on recurring bill payments and 0.5% cash back on all other purchases. You can redeem your cash at any time, starting with just $1 earned. 
The BMO CashBack Mastercard has a low $15,000 annual income requirement, which makes it accessible, even for students. And, because it's from a big bank, the card is perfect for those who want to maintain all their accounts with one provider while enjoying the security of banking with a major household name. We break down the card's features and how to use it in the most savvy way possible.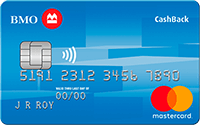 | | |
| --- | --- |
| Annual fee | $0 |
| Rewards | 3% cash back on grocery purchases; 1% back on recurring bill payments; and 0.5% cash back on all other purchases |
| Welcome offer | You can earn up to 5% cash back in your first 3 months. Conditions apply. |
| Minimum income required | $15,000 (student eligibility may differ) |
| Interest rates | 19.99% purchases, 22.99% cash advances , 22.99% balance transfers |
| Best features | Excellent earn rate on groceries; redeem cash any time, starting from $1 earned |
| Who it's good for | People who spend big on groceries, as well as students, and those who want simplicity and to bank with a trusted bank name |
Get more details about the BMO CashBack Mastercard*
---
BMO CashBack Mastercard benefits: 
1. You'll earn impressive rewards on groceries
Groceries are a big spending category for most Canadians, especially with high food costs right now, and this card offers an easy and accessible way to earn cash on this regular expense. Pay for food at a grocery store and you'll get 3% back—the highest earn rate in this category of any no-fee cash back credit card in Canada. Its closest competitor, the PC Financial World Elite Mastercard, technically allows for a 3% return on groceries, but through its rewards program and only at select stores. It's important to note that this earn rate is capped at the first $500 in grocery purchases per monthly statement period, after which time you'll earn the card's base rate of 0.5%. This cap resets every month, so it's possible you won't even hit it.
2. It boasts an impressive welcome offer
You can earn up to 5% cash back in your first 3 months. Conditions apply. This is a strong bonus for an entry-level, no-fee card. 
3. It's accepted practically everywhere
As a credit card, you can us it anywhere Mastercard is accepted. And, outside of more "typical" grocery stores, you can also earn 3% cash back on groceries from No-Frills and Walmart Supercentre grocery store locations. You can use this card at Costco, but be aware that since Costco is a discount warehouse and not considered a grocery store, you'll receive 0.5% cash back instead on grocery purchases there.
4. The cash back redemption options are flexible
If you're looking for ease and flexibility, you will not find a company with a better redemption system than BMO. First of all, unlike some other cards, you don't have to wait for your rewards. You can redeem your cash back at any time of the year. And, even better, you can redeem cash back in increments starting from just $1, far more flexible than the minimums imposed by some other companies. And, if you'd like to have your cash automatically redeemed at every $25, that service is only a click away when you update your account. 
5. It has a low income requirement
No-fee cash-back cards tend to underdeliver by either not offering great rates of return or by requiring an inaccessible minimum personal annual income. We've covered the great rates, and you can add to that a super-accessible $15,000 annual income minimum, which puts this card within reach for many more Canadians. And, if you're a university or college student, you can even get this requirement waived if you apply for the BMO Mastercard as your first credit card (here's more info, if you're a student and considering getting this card*). 
6. It can help you get on track financially
Not only is it a no-fee card that earns you rewards, but it has a low income requirement, making it great for students and people looking to build credit. It also boasts a 1.99% introductory interest rate on balance transfers for nine months (with a 1% fee on the amount transferred) which makes it a great option for people looking to consolidate their existing credit card debt. Simply move that debt over and buy some low-interest time to pay it down. Note: You won't earn rewards on balance transfers, and the interest rate will increase to 22.99%.
7. It incorporates budgeting tools
This card comes with financial insights, which you usually have to access through a third-party financial app. This free feature, accessed through the BMO Mobile Banking app, gives you a quick snapshot of your daily spending, so you can quickly check if you're on track. Sure beats busting out your calculator, if you ask us.
---
How to use your BMO CashBack Mastercard
Since this BMO card has no annual fee and an exceptionally high 3% cash back earn rate on groceries, it's a no brainer to combine it with another card. If you want to get savvy, you can use it only for groceries, and then use the SimplyCash from American Express to earn you a flat rate of 1.25% cash back on all purchases regardless of category. Since both are no fee cards, you won't pay a dime in annual fees, either. 
How much can you earn with the BMO CashBack Mastercard
You may be wondering just how much money you can earn with this card. Your final total will depend on your spending habits, but we put together a quick guide based on the following monthly spending scenario. (You just take what you spend monthly in that specific category, times that by 12, and then multiply it again the rate. Example below: $400 x 12 x 0.03 = $144.)
| Bonus Categories | Monthly Spend | Annual Rewards |
| --- | --- | --- |
| Groceries (3%) | $400 | $144 |
| Recurring bills (1%) | $200 | $24 |
| Everything else (0.5%) | $1,000 | $60 |
| Total | | $288 |
At this rate you'd make back nearly three weeks' worth of grocery money every year.
---
Are there any drawbacks to the BMO CashBack Mastercard?
The BMO CashBack Mastercard has a lot going for it—but there are a couple of caveats. 
First, there are spending caps on the bonus categories. That said, they're quite generous at $500 per month and do reset every month. However, if you consistently spend more than $500 on groceries per month, you might want to consider other credit card options without caps. 
Second, the base earn rate is 0.5%. You're not going to see a lot of money back at that rate. But the reality is that's a pretty standard return for a no-fee card from a big bank. 
Third, this card, as well as many other no-fee cards, is that they run light on perks. That said, cardholders do receive discounts of up to 25% on car rentals from National and Alamo, automatic extended warranty which doubles the manufacturer's warranty on purchases up to an additional year, and purchase protection.
---
BMO CashBack Mastercard alternatives
If you're looking for a way to maximize your return on groceries without paying an annual fee, here are some other cards to consider. 
Tangerine Money-Back Mastercard
The Tangerine Money-Back Mastercard is a no-fee cash back card lets you earn 2% back on purchases in up to three bonus categories including drug stores, hotel-motel, restaurants—and groceries. Even better, there are no caps on earnings. 
Rogers Platinum Mastercard
Another no-fee card, the Rogers Platinum lets you earn a flat rate of 1% cash back on every purchase, so while this won't give you the best rate on groceries, it doubles the typical 0.5% rate on all other purchases. 
PC Financial Mastercards
If you shop regularly at Loblaws banner stores, like No-Fills, Fortinos, or Real Canadian Superstore, you can earn 1% to 4% in points on your grocery bills, depending on which PC Financial credit card you qualify for according to your annual income. Like the other cards on this list, there is no annual fee.
Did you know sometimes the best credit card is multiple credit cards?
The BMO CashBack Mastercard has no annual fee and earns unusually high rewards on groceries, making it a clear choice for those spends. However, its base rate of just 0.5% cash back on everything else isn't as competitive. You might do well to carry it in tandem with another card (or cards) with stronger offerings in other spending categories. 
For example, you could carry the BMO CashBack Mastercard for its 3% return on groceries but use either the SimplyCash American Express or the Roger World Elite, for their base rates of 1.25% or 1.5% respectively, on everything else. Or, with the Home Trust Preferred Visa, you'd get the slightly lower (but still more competitive) 1% base rate but also have access to great perks like no foreign transaction fees. None of these cards carry an annual fee, so you could get more cash back or perks just for spending strategically. 
By carrying different cards for different types of purchases you can really beef up your rewards. And, if you choose no-fee cards to complement the BMO CashBack Mastercard, you won't even have to pay. Do note that you'll have to be comfortable juggling more than one credit card bill. 
---
Get more details about the BMO CashBack Mastercard*
---
What does the * mean?
If a link has an asterisk (*) at the end of it, that means it's an affiliate link and can sometimes result in a payment to MoneySense (owned by Ratehub Inc.) which helps our website stay free to our users. It's important to note that our editorial content will never be impacted by these links. We are committed to looking at all available products in the market, and where a product ranks in our article or whether or not it's included in the first place is never driven by compensation. For more details read our MoneySense Monetization policy.