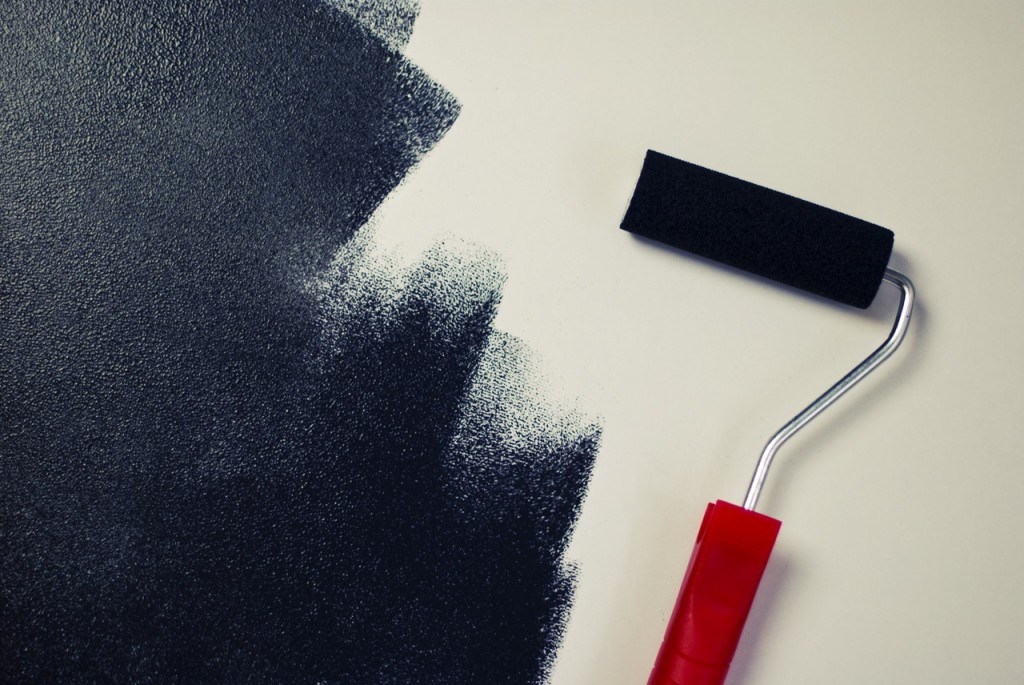 New year, new renovation budget.
Now, before you go off on a rant about how foolish it is to renovate a home, stop. Not every home renovation project is a good investment—nor it is a good use of disposable income. But not every remodel project is a bad idea. That sort of black and white blanket statement just isn't helpful, particularly when we all know someone who renovated and sold their home for top dollar. Debating whether or not all home reno projects are a good idea is a futile as determining whether or not real estate is a good investment these days. Yes, there are spots where homes are over-priced. But there are so many variables, so how can we give just one accurate answer to a question that impacts a nation of people across 10-million square kilometres?
It's probably more helpful, then, to provide some insightful information that can help any homeowner make good decisions if they are considering a home renovation. (To help you decide if it's wise to renovate read: Home renovation reality check.)
This is particularly important given the current economic climate. By the end of 2016, various Canadian economists were anticipating a rise in spending when it came to home renovations. The Chief Economist of the Canadian Real Estate Association, Gregory Klump, believes that the combination of limited housing supply and strong buyer demand will prompt more homeowners to stay put and renovate, rather than sell and relocate. (Click here for more on whether you should renovate.)
Klump's predictions are supported by the last decade of home renovation spending. According to Toronto-based real estate consultants, Altus Group, renovation spending has been rising for 15 years—from $45-billion in 2006 to $71-billion in 2015. (The 2016 stats aren't in yet, but the forecast suggests that this expenditure will increase by 1.9%, or another $1.35-billion, by year-end.) If we were to take the total renovation expenditures for 2015, each homeowner would end up spending, on average, about $5,000 on their remodel project. If home prices continue to rise, or even if prices taper off and stay stagnant at the current high valuations, the ongoing renovation trend is sure to continue.
To help you get the most here are five tips to help you plan your home renovation.
Tip #1: Don't underestimate the cost of renovations
From data compiled from over 2 million users' search behaviour and project posts, TrustedPros.ca, a site that helps homeowners find and rate home reno contractors, found that homeowners consistently set unrealistically low budgets for a few of the most popular renovation projects.
For instance, the national average budget for a kitchen renovation came in at just under $14,480—at least $5,000 under-budget for the average Canadian kitchen renovation, explains Nicole Silver, spokesperson for TrustedPros. "It takes licensed electrical, plumbing and gas experts to install bare necessities in a kitchen," explained Silver, "and these experts come at a price." Add in the extra cost of durable or high-end finishes and budget costs start to creep up quickly.
Another renovation project that homeowners tend to underestimate is fence construction. On average, Canadians budgeted just under $4,200 for a new fence, but average actual costs came in closer to $11,700—about $39 per linear foot.
Homeowners also underestimated the cost of new floors and new windows, with average household reno budgets coming in at just over $3,250 and just over $8,520, respectively. "The anticipated floor budget is only realistic for very small spaces using low-end materials," explains Silver. "While the anticipated window replacement budget covers five regular sized windows and no door replacements," explains Silver, who suggests that homeowners budget about $1,600 per window (more if installing or replacing specialty or large windows).
Tip #2: Seriously consider whether or not you are over-renovating
Many homeowners are convinced that they only way to increase the value of their home is to spend a lot of money on high-end finishes and expensive home remodels. But home renovations rarely, if ever, offer a $1 for $1 return. In fact, sometimes the simplest or least expensive updates can give the best returns.
For instance, according to Remodel magazine, re-insulating your attic can recoup as much as 117% on the reno dollars you spent, while you can expect a 92% recoup on the cost of replacing your garage door and a 91% recoup on the cost of replacing your front, entry door.
Yet, these simple upgrades are not at the top of the reno-desire list, according to the data collected by TrustedPros.ca. In 2016, the top three reno projects across Canada were: bathroom remodels, basement renovations and the installation of a new deck.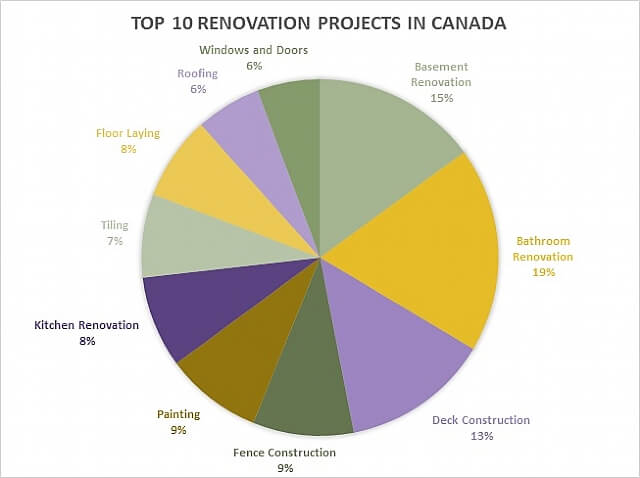 To get the most out of your renovation budget, then, you must first be honest: When completing a home renovation, you are spending money, not investing money. With this in mind, consider the reasons why you want to update and remodel and then spend accordingly.
Read more: Home improvements on any budget »
Read more: How to plan next year's bathroom reno »
Tip #3: Do the leg-work to set a realistic home reno budget
Still, in order to avoid unnecessary or unexpected costs when it comes to home renovations, you must first start with an accurate, honest budget. Here are four tips to get you there:
No. 1: Get multiple quotes
Never settle on a contractor before first interviewing and getting a quote. Better still, ask what their contract covers and how they handle ongoing communication and potential problems (remember, surprises can mean extra costs, so you want a clear-cut plan of how this will be handled, before it happens).
Read more: How to find a reputable contractor »
Read more: How to hire a contractor »

No. 2: Stop comparing your home to HGTV
Nobody renovates their kitchen, never mind their entire home, in just two weeks. Yet, the home shows on TV can leave us with the impression that renovations can be done either quickly or cheaply or both. If you find your the type that likes to compare your house with the glossy mags the home reno reality shows then stop. Turn off the TV and put the magazines away. Now, consider why you want the renovation and what problem it will theoretically fix. Answer these questions and you'll have a much better idea of what needs to be done and what budget you can afford.
Of course, if you're like Todd Talbot—and use HGTV and home shows as inspiration, rather than as comparison—then watch, take notes and go to it!
Read more: The real cost of reality TV renos »
No. 3: Answer questions honestly
Are you handy? If so, you could cut some costs by doing the work yourself. But be honest with yourself: Do you have the time or the aptitude? If not, then you'll need to pay someone to do the work. That means taking all expenses into account—not just labour and materials, but also permits, as well as additional overhead. Remember, the people you hire will make a profit. That's their job. If that doesn't sit well with you, consider learning how to do the job yourself.
Read more: DIY home renos you can actually do yourself for less »

No. 4: Always add more
There are always extra costs. That's because home renovation planning takes a little bit of guess work. How do you know if you have lead pipes or that your oven in a potential fire hazard? To avoid blowing your household budget, due to unexpected reno costs, add a contingency fund. Most contractors suggest adding 10% but larger projects may need a 20% contingency fund. Talk to your contractor for a better understanding of what this extra money could potentially cover.
Read more: How to avoid a home renovation nightmare »
Tip #4: Figure out the finances, first  
Before a hammer hits a nail you must first decide how you will pay for your home renovation project. Like all consumer spending, paying for a renovation is best done through savings. By saving up the money, you're more likely to stay on budget because you have more time to research costs and plan the project.
Still, if you're seriously considering a renovation and don't have all the money saved up to cover the costs, here are two of the best ways to help fund this expenditure:
No. 1: Use a home equity line of credit (HELOC)
This is a loan that's taken out against the equity you have built up  in your home. Under current regulations, a lender will only let you borrow up to 65% of your home's value. That means on a $500,000 home you could borrow as much as $325,000. So, if you already have a $300,000 mortgage, you could qualify for a $25,000 HELOC.
The advantage of a HELOC over a standard loan is that it's backed by an asset. This collateral allows the lender to offer the loan at a lower interest rate, usually prime plus or minus a percentage. Also, a HELOC allows you to borrow up to the limit, repay and borrow back again, without penalty. Plus, when cash is tight, you only pay interest on the funds you use.
Just keep in mind that HELOCs come with additional fees to open and close (called discharging) the loan, fees that can run as high as $1,000.
No. 2: Use rebates
If you're doing extensive renovations, consider making upgrades with energy efficiency in mind. Upgrades, like insulating the basement or upgrading windows and the home's furnace, can help you qualify for municipal, provincial and federal rebates that can quickly add up.
However, to get access to these rebates, you must first pay for and complete a home-energy audit—a test that will tell you how energy efficient your home is (or isn't) and then provide a list of upgrades. The audit is done in two parts (before and after) and can cost anywhere from $200 to $1,000, depending on your city, your home and the company you use. Once you've completed and paid for these improvements, you can submit receipts and paperwork to various rebate programs. Depending on what you've done, you could get as much as $10,000 back, just keep in mind it could take up to a year for the money to come in.
Under no circumstances should you rely upon a credit card
If you're really in a pinch—although you shouldn't be—you could refinance your mortgage to pay for the renovation. But we don't love this payment strategy as you run the risk of adding costs to your renovation if interest rates rise.
Still, refinancing your home is certainly far more preferable than paying for a home reno using a credit card. Charge cards often come with very high interest rates, meaning you pay an exorbitant premium just to do the renovation.
Tip #5: Be patient
The final tip is, wait for it…be patient. Putting your home reno project on hold gives you more time to save up the money needed for this expensive endeavour. It also means not going into debt for an expenditure that may or may not give you a return on the dollar you spend. Finally, it avoids costly mistakes. That's because a hasty, under-budgeted renovation can actually devalue your home and add little or no value to your home's fair market value. And nobody wants to pay for a big blunder.
Ask your property or real estate question here »
---
Read more from Romana King at Home Owner on Facebook »