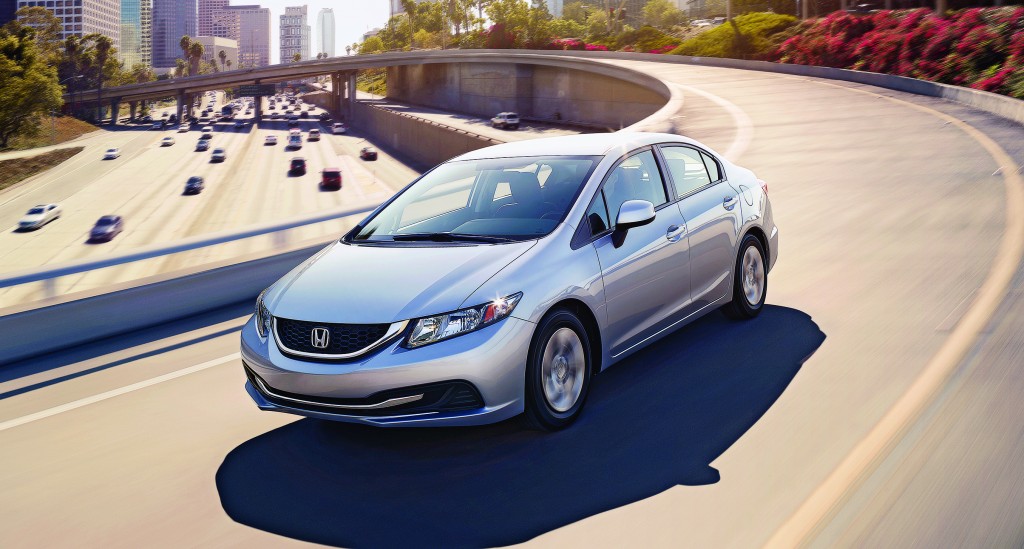 Parents have a lot of things to worry about when their offspring leave the nest for higher learning, but transporting them safely to and from campus shouldn't be one of them. For that reason, some moms and dads are adding a new car to their son or daughter's back-to-school supplies. But with so many makes and models to choose from, it's not easy to find the perfect vehicle that will please everyone and make the grade. Fortunately, our auto panel has been studying up on the best cars for students and has created this cheat sheet with their top five choices.
5th PLACE
Ford Focus
$12,679-$32,742
The Focus has a European lineage that lends it more style than other Ford products, explains automotive writer Petrina Gentile. Still, parents will find comfort in the excellent safety record, while young drivers will appreciate the vibrant palette of exterior colours, like "Blue Candy." Let's not forget all the cool technology crammed into the car, like voice-activated controls and Ford's Active Park Assist feature. "Now if only there was a way to make Ramen noodles or pop-tarts this car would be a dream," jokes Rolczewski.
4th PLACE
Mazda 3
$15,995–$25,995
This newly restyled compact lives up to the Mazda "zoom, zoom" catchphrase. "Few entry-level cars come close to Mazda's sporty handling, and while you don't want your offspring out there pretending to be race drivers, quick response and a planted stance can make a huge difference in emergency manoeuvres," notes automotive journalist Jil McIntosh. The Mazda 3 also gets top marks for its interior with the exception of the touchscreen, which three of our panelists described as an "afterthought."
3rd PLACE
Hyundai Elantra
$15,999-$25,649
The original Elantra launched in the '90s flunked out in most respects, but the latest edition is a remarkable little sedan. Still, it's been an uphill battle to stand out in this crowd. "There are many reasons to smile driving the Elantra, but in this tough category a little more spirit would make it a better car," say automotive writer Nika Rolczewski. The GL sedan model offers the best blend of value and popular options and, as with all Hyundai vehicles, the Elantra comes with a five-year comprehensive warranty.
2nd PLACE
Toyota Corolla
$15,995-$25,200
A safe, if not sexy choice, last year's redesign moved the Corolla from "bland transportation appliance to decently styled," notes automotive radio host Tim Dimopoulos. "But it still lacks the cool factor young buyers may be looking for." Still, our critics laud Corolla's good road manners, and its predictability makes it a great commuter car. Corbett says the well-equipped and reasonably priced LE version is by far the best value for budget-conscious buyers attracted by Toyota's generous incentives.
BEST DEAL!
Honda Civic
$15,690-$28,718
Trusted by parents and loved by young drivers, the Civic has been Canada's bestselling passenger car longer than most undergraduates have been alive. Our panelists praised the Civic's legendary reliability, superb fuel economy and sporty new look. Ron Corbett of the Automobile Protection Association (APA) says, "The Civic doesn't do anything in a stand-out fashion, but is so competent overall that it's won several APA multi-car road tests." New for 2014 isa continuously variable transmission (CVT) that smooths out acceleration and boosts the fuel savings. Inside, all models boast digital readouts and a seven-inch touchscreen that Honda claims "is like having a smartphone hard-mounted into your Civic." Resale value is excellent and Corbett recommends the LX trim level for best value.


How we came up with the ratings: Scores listed are out of 10; the higher the number, the better. Cost of ownership data and predicted reliability data comes from Consumer Reports and JD Power. Safety data comes from the Insurance Institute for Highway Safety and the U.S. Department of Transportation. Driving experience is the average of scores provided by our expert panel. To determine our top car, we allocated 20% of the overall score to cost, 20% to predicted reliability, 10% to safety and 50% to driving experience.
Jil McIntosh automotive writer with the Toronto Star and Metro
Tim Dimopoulos host of the Automotive Report on680 News
Nika Rolczewski automotive columnist for the Toronto Star
Ron Corbett automotive editor at the Automobile Protection Association
Petrina Gentileautomotive journalist for the Globeand Mail